Civil Society and Advocacy
A crucial step in achieving Zero Hunger by 2030 is an active civil society. Welthungerhilfe's (WHH) human rights-based approach supports the development of citizens and organizations as civil society actors.
Challenge
In countries in the Global South, inequality weakens the poorest citizens' social standing and right to be heard, ultimately exacerbating hunger.
WHH studies show that the livelihoods and food and nutrition security of local populations can be harmed by large-scale agricultural investments as international investors target natural resources. Although smallholder farmers have been working the same land for generations, systematic land grabs remove their livelihoods without consideration for their human right to food.
UN guidelines protect farmers' and indigenous peoples' land and usage rights, but these are not always recognized by powerful political actors and multinational companies.
Our approach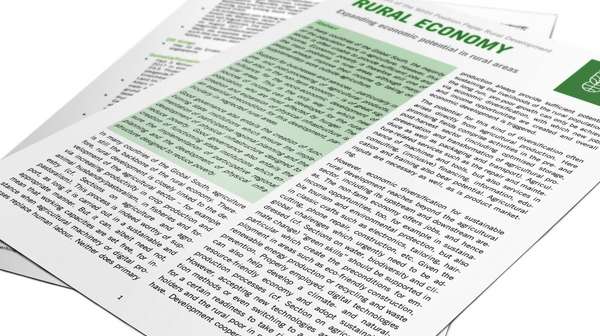 Rural Development Position Paper
The Position Paper on Rural Development sums up Welthungerhilfe's programs and political approaches that aim to improve the conditions in which people in poor rural regions of the Global South live.
WHH strengthens civil society at the grassroots level by treating marginalised people as right holders (rather than aid recipients) and giving them the tools to actively demand their human right to food.
We also support non-governmental organizations working to change political conditions. Welthungerhilfe's longstanding track record in community capacity building and collaboration with grassroots organizations has produced successful spin-offs, such as the Civil Society Academy. The CSA empowers civil society groups and community-based organizations through training to fight hunger, land grabs and inequality. It has become a flagship for effective South-South cooperation and since March 2023 has been working independently from Welthungerhilfe.
As part of our advocacy work for the right to food, Welthungerhilfe works with partners to support platforms for Multi-actor Partnerships (MAPs) that encourage dialogue on an equal footing between civil society groups, political decision-makers and investors.
Our advocacy approach also involves lobbying governments to increase development aid and working on an international level in the countries from which the investors come, and as part of associations such as the Committee on World Food Security.
Our impact
Kompass 2021 Report
For the 28th time, Welthungerhilfe and terre des hommes Germany have published the "Kompass 2021" report covering the reality of German development policy. Read the organizations' recommendations to the German government.
WHH's flagship 'Land for Life–making policies work for food security' program, in cooperation with the CSA, trains civil society actors in Ethiopia, Burkina Faso, Liberia, Sierra Leone and Germany to build or strengthen MAPs on land governance. By linking advocacy and civil society empowerment, Welthungerhilfe's Liberia Office contributed to Liberia enacting a new law on land rights in 2018, significantly strengthening the rights of people in rural areas to access and use land.
WHH, along with its network of local partners, is working to increase and improve the access, delivery and quality of public services aimed at reducing poverty and social exclusion in Jharkhand, India. The project uses India's 2005 Right to Information Act as a powerful tool to enable citizens to participate in the governance process and become aware of their rights and entitlements. By project end, it will have targeted 381,000 citizens in 76,500 households, along with public health providers, schools, and local governance and monitoring bodies.