The effects of climate change are a central cause of hunger, malnutrition, and poverty. Welthungerhilfe (WHH) integrates adaptive strategies and measures into our programs to enable our target communities to deal with climate change.
Challenge
As many as 98% of those suffering from hunger live in the Global South. These people are already bearing the brunt of climate change, despite playing little part in causing it. Extreme weather conditions threaten food security in these regions as torrential rain, heat waves and long-lasting droughts ruin harvests and cause soil erosion. These tough cultivation conditions also increase food prices, making it increasingly difficult for rural communities to feed themselves.
On top of this, climate change is exacerbating global inequality. Researchers have found that the gap between rich and poor countries is now about 25% wider than it would be without climate change.

The consequences of climate change affect most severely those populations worldwide least responsible for it.
Marlehn Thieme
President of Welthungerhilfe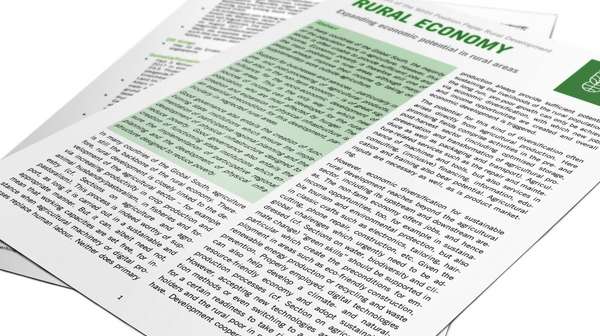 Rural Development Position Paper
The Position Paper on Rural Development sums up Welthungerhilfe's programs and political approaches that aim to improve the conditions in which people in poor rural regions of the Global South live.
WHH focuses on assisting people acutely affected by climate change to adapt to new conditions. Our programs are designed to sustainably strengthen resilience to climate change effects by sharing knowledge on climate-adapted cultivation and harvesting methods with climate-resistance crops using high-quality seeds.
To bolster food and nutrition security, WHH assists rural communities in the creation of food reserves and the development and preservation of their infrastructure. Our comprehensive approach to risk management also includes supporting the construction of protective facilities and early warning systems.
WHH works together with local populations, government, and institutions such as universities to learn from these projects and improve strategies for the future. All measures are closely coordinated and implemented with local partner organizations. Our political work also extends to lobbying governments of large industrial nations to reduce their emissions.
As climate change represents a steadily rising threat to people suffering from hunger that demands immediate policy action, it was the focus of 2019's Global Hunger Index.
Our Impact
WHH projects in north-eastern Haiti are strengthening the food security of 128,000 people by supporting smallholder farmers in better protecting their habitat from the consequences of climate change and extreme weather events. Preserving soil and vegetation secures these farmers' livelihoods in the long term.
A project in the rural areas of central Tajikistan is assisting 32,000 people to install energy-efficient ovens and stoves, insulate their houses, and harness solar and water energy. A further 80,000 indirectly benefit from this project focused on making better use of available energy sources while also preserving them for the future.
Our work in the border regions of Ethiopia, Kenya, and Uganda is helping semi-nomadic herders adapt their agricultural practices to climate change and earn higher prices for their livestock. By the end of the three-year program, 80,000 people will have improved means to sustainably access food and water and better cope with the recurring droughts affecting the Horn of Africa.