Welthungerhilfe (WHH) follows a dual approach in fighting hunger and malnutrition in regions affected by crises: linking immediate relief in emergency situations and long-term development programs for sustainable change.
Challenge
Food security issues in rural communities are compounded by the threat of armed conflicts, natural disasters and climate change. Providing humanitarian assistance since 1962, WHH understands there is often no linear sequence of emergency aid, reconstruction and post-crisis development.
We regularly see both substantial progress in the long-term eradication of hunger and the need for humanitarian assistance in the same country at the same time.
Our approach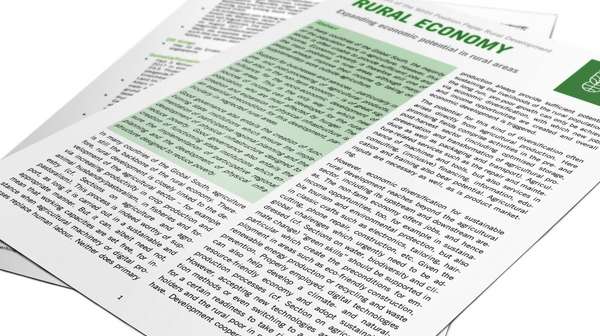 Rural Development Position Paper
The Position Paper on Rural Development sums up Welthungerhilfe's programs and political approaches that aim to improve the conditions in which people in poor rural regions of the Global South live.
WHH's programs focus on anticipatory humanitarian aid and the nexus of relief, recovery, development and preparedness, in which strengthening communities' resilience is our primary goal.
The Welthungerhilfe Emergency Response Team can be deployed within 48 hours to support our country offices after a disaster has struck. Our emergency relief operations concentrate on the immediate supply of food along with water and hygiene, shelter and other necessary provisions.
Transitioning into the recovery phase, our response shifts toward protecting and restoring livelihoods, thus contributing to reinstating longer-term food security. WHH post-disaster measures aim to improve communities' physical, social, environmental and economic conditions to prevent re-creating pre-disaster vulnerabilities and enhance their safety and resilience.
Our impact
Around 33 million people have been affected by the floods in Pakistan since July 2022. WHH, together with its local partner organizations, is carrying out emergency relief measures in the provinces of Sindh, Balochistan, Khyber Pakhtunkhwa and Punjab. Furthermore, in the Rajanpur district, WHH has supported the development of community-level disaster preparedness in recent years. The resultant Union Council Disaster Management Committees are now helping with the flood relief, with WHH's support. As the flood water began to recede in September across all regions, WHH has also distributed seeds and tools to support small-scale agriculture and consequently the supply of food, as well as provided building materials for the repair of damaged houses.
WHH and its national partner ANANDO have distributed food baskets and other emergency supplies to 16,000 Rohingya living in refugee camps in Bangladesh, while also providing hygiene packages and education. WHH is mobilised to provide further emergency assistance as the threat of monsoons and cyclones is ever present in the region. On top of this, another WHH and ANANDO collaborative project has provided funds to resident garbage collectors in a camp in which about 15,000 Rohingya refugees reside.
Inn Malawi's largest refugee camp, the majority of the approximately 40,000 refugees come from the Democratic Republic of Congo, Rwanda or Burundi. The international community and the Malawian government provide these people little support. WHH has helped setup a care center for children with physical disabilities and/or learning difficulties in the camp. Since the center opened in March 2021, it has offered a wide range of activities that improve the lifes of these children as well as providing support and training for parents.