Welthungerhilfe follows a dual approach in fighting hunger and malnutrition in regions affected by crises: linking immediate relief in emergency situations and long-term development programmes for sustainable change. In 2018, we led over 60 humanitarian assistance projects.
Challenge
Food security issues in rural communities are compounded by the threat of armed conflicts, natural disasters and climate change. Providing humanitarian assistance since 1962, Welthungerhilfe understands there is often no linear sequence of emergency aid, reconstruction and post-crisis development.
We regularly see both substantial progress in the long-term eradication of hunger and the need for humanitarian assistance in the same country at the same time.
Our Approach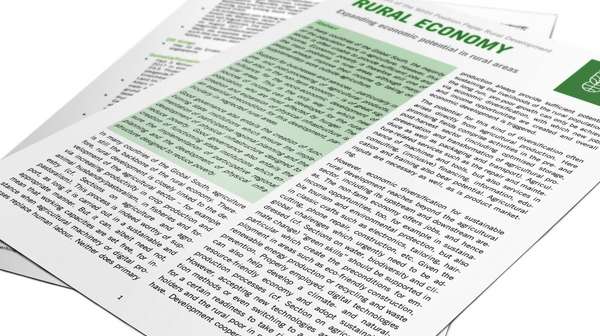 Position Paper Rural Development
The Position Paper on Rural Development sums up Welthungerhilfe's programmatic and political approaches to improve the conditions which people in poor rural regions of the Global South live in.
Welthungerhilfe's programmes focus on anticipatory humanitarian aid and the nexus of relief, recovery, development and preparedness, in which strengthening communities' resilience is our primary goal.
The Welthungerhilfe Emergency Response Team can be deployed within 48 hours to support our country offices after a disaster has struck. Our emergency relief operations concentrate on the immediate supply of food along with water and hygiene, shelter and other necessary provisions.
Transitioning into the recovery phase, our response shifts toward protecting and restoring livelihoods, thus contributing to reinstating longer-term food security. Welthungerhilfe post-disaster measures aim to improve communities' physical, social, environmental and economic conditions to prevent re-creating pre-disaster vulnerabilities and enhance their safety and resilience.
Our Impact
Welthungerhilfe developed an emergency preparedness plan and set up a locally based emergency response team after the devastating 2015 earthquakes in Nepal. When exceptionally heavy rainfall led to major flooding in Nepal in 2007, we started immediate food and water distribution to 75,000 people. Welthungerhilfe continues to support 256,000 people in Nepal with projects that combine food security and sustainable agriculture, including measures to reconstruct infrastructure and prepare for future crises.
Welthungerhilfe and its national partner ANANDO have distributed food baskets and other emergency supplies to 16,000 Rohingya living in refugee camps in Bangladesh, while also providing hygiene packages and education. Welthungerhilfe is mobilised to provide further emergency assistance as the threat of monsoons and cyclones is ever present in the region.
DR Congo has been wracked by violence and wars for decades. Welthungerhilfe links emergency relief with long-term development for the 316,009 people we support to ensure communities are well-prepared for the future. Welthungerhilfe is also targeting water, sanitation and hygiene to reduce the deadly impact of Ebola in the country.