Food Security and Nutrition
Improving nutrition and food security is Welthungerhilfe's (WHH) primary goal as part of our global mandate to fight hunger and poverty. Therefore, all WHH's projects ultimately contribute to this.
Challenge
The FAO reports there are 735 million people suffering from hunger globally. Many more are lacking essential vitamins and minerals – a form of malnutrition called hidden hunger.
Access to sufficient nutritious food is vital for pregnant women, breast-feeding mothers, and children in their first 1,000 days of life. Nutritional deficiencies weaken the immune system of children and can, in combination with general undernourishment, lead to physical disabilities and limited mental development for the rest of their lives.
Our approach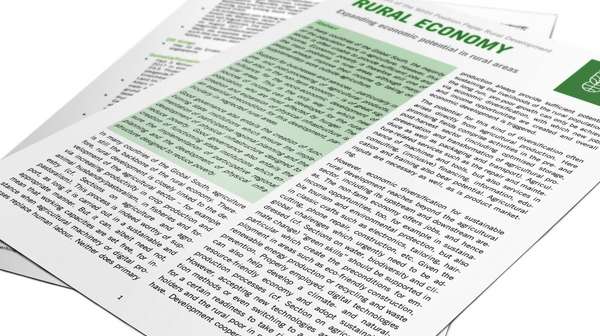 Rural Development Position Paper
The Position Paper on Rural Development sums up Welthungerhilfe's programs and political approaches that aim to improve the conditions in which people in poor rural regions of the Global South live.
WHH's strategic focus is on achieving sustainable food and nutrition security for the most vulnerable. Most of the hungry are farming families in rural areas – and these are the areas we work in. Our projects address failures in food and economic systems in order to eradicate hunger, in all its forms, throughout the world.
In close collaboration with local communities and partner organizations, we link the five key areas of agriculture, resource management, alternative incomes and knowledge about nutrition (our flagship LANN+ approach), and water, sanitation and hygiene (WASH) to empower rural families to fulfil their human right to food and nutrition security. We place great emphasis on the inclusion of women in important decision-making processes.
Armed conflicts, natural disasters and climate change also pose great threats to food security. Welthungerhilfe projects strengthen resilience in countries affected by such crises. Our short-term emergency relief operations are linked with longer-term development program to better prepare communities for future crises.
Our impact
In India, we have enabled farmers to secure their food supply and increase the variety of produce in their fields, leading to healthy nutrition for over one million people. WHH's LANN+ programe in Sierra Leone has improved nutrition and food security for those most vulnerable: children, pregnant women and breastfeeding mothers.
Levels of hunger have increased in regions of the Democratic Republic of Congo to which internally displaced people have fled due to recurring conflicts. One WHH project aims to boost nutrition through the distribution of seeds to 3,000 families in nine municipalities, while also bringing together smallholder farmers into producer groups. In the Amhara region of Ethiopia, almost 50% of children under five do not meet the average physical development for their age due to malnutrition. To combat this, WHH and local partner organization, ORDA, provide nutritional consultations and practical courses on healthy cooking to young mothers. Another project in Tajikistan combines the construction of greenhouses, kitchen gardens and improved storage facilities with training on nutritional knowledge for over 1,000 women.
More on this topic