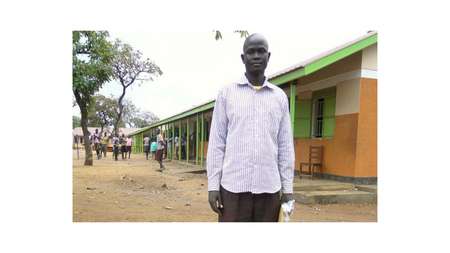 Uganda
"We just go ahead and start"
Akoy looks serious, standing in the schoolyard of the Ayilo 2A Elementary School in Adjumani, Northern Uganda. His face is expressionless, almost wooden. He is standing perfectly still in the midst of the children's clamour, shouts and laughter. He follows the children with a steady gaze, letting the boys and girls play.
Akoy, 30 years old, is a teacher at Ayilo 2A Elementary School in Adjumani, Northern Uganda. At first glance, the school looks similar to many others in Uganda, and perhaps even a bit better because it is still a little newer. However, it stands in the centre of a large, extensive settlement of South Sudanese refugees. More than 200,000 people who had to leave their homes in South Sudan are living in the district of Adjumani; they are mainly women and children, with hardly a man in sight.
Background Information
Welthungerhilfe efforts in Uganda.
Hope for a new Beginning in Uganda
Akoy also fled from South Sudan . "My wife and I began our journey just over two years ago. We left at night. It was dangerous." In response to the question of whether he would like to or be able to tell us about the refugee situation and his own story, Akoy slightly inclines his head, his eyes intent and his mouth turned up in a slight, forced smile. He does not say anything, but nothing really needs to be said. His expression speaks volumes. Even without words, it is clear that his story is a sad one.
It is a story shared by many of the people who have found safe refuge here in Adjumani. They tell of fear and violence, of life and death and of the hope to at least save one's life and find safety in Uganda. Then, Akoy speaks after all: "You know, my wife and I arrived here in June 2014. We were very happy to have reached the border. We were immediately given water and food. We were so happy!" And yet, Akoy's face remains stern and serious. His voice is calm and dispassionate.
He and his wife did not spend long in the United Nations intake centre on the Ugandan border with South Sudan. The Ugandan government strives to receive refugees generously, settling them as quickly as possible rather than making them live in camps. Every refugee who arrives may stay. During the intake proceedings, Akoy was asked about his profession. He is an elementary school teacher. Not in his wildest dreams would he have expected to be able to continue in his profession in Uganda.
Background Information
Welthungerhilfe efforts in South Sudan.
However, teachers were needed in Adjumani due to the number of child refugees. Akoy recalls: "I was told that, if I wanted to, I could begin teaching immediately in the 'school under the tree,'" i.e. teaching outside in the absence of a school building. "Beginning the lessons was left up to me. I was told: Just go ahead and start!"
A bit of Normality in the Refugee Camp
Now, a small smile crosses Akoy's face after all: "Of course, I started immediately. I am from the South Sudanese state of Jonglei and am Dinka, so I speak the same language as many of the children who fled to here. I took advantage of the opportunity to be a language facilitator and teacher. After all, the children have travelled the same way as me. I thought that I could make myself useful by helping them."
The children are grateful to him. Their lively laughter and shouting makes that clear. People like Akoy are not only teachers: They help the children to regain a bit of normality and make it easier for them to integrate into a new country, a new language and a new environment. He knows and shares their sad history. Together, they can regain their laughter and look toward the future.
The administration of the Ayilo 2A Elementary School noticed Akoy and asked him if he was interested in coming to work at the school as a teacher. He was naturally thrilled to do so. That is how, shortly after his arrival in Adjumani, Akoy became a teacher for mathematics, English and general studies at the Ayilo 2A Elementary School. He is proud of the school. "Our children are happy here. We now have nice classrooms and teachers' residences, and we can even continue teaching when it rains."
He goes over to a group of students that desperately wants to be photographed in front of their school. Although they are already older, they are also going to school here. The classes are currently very large, with 150 children rather than the usual 55 per classroom. It is just that many children have recently arrived.
An Uncertain Future
At the end of a visit, the question of what the future will bring is often posed. This question is sometimes answered with silence and speechlessness, but Akoy is prepared. He does not have to think about his answer: "We do not know. For now, things are going well here. However, since you ask, could you perhaps pass on our thanks to Germany and maybe ask if we could get some more room for the teachers? It would be very nice if we had some more space."
The school was equipped with funds provided by Welthungerhilfe in cooperation with the Höller Stiftung. Akoy and his family are living in a small, round hut in the settlement, but the teachers from out of town who come here to work live in small houses behind the school, two to a room. That really is very cramped.
Leaving the school grounds, we hear the children's shouts and laughter again. Akoy bids us goodbye, his face once again without expression. However, it had opened up in conversation, demonstrating how much strength and pride this man has retained. He passes the spark of hope that glimmers in his eyes on to the children.