Food Price Increase Exacerbates Hunger
Global prices for all major grains rose again over the last few months. Concerns regarding production in key exporting countries, alongside uncertainty over the Black Sea Grain Initiative, are the main reasons for the rise in world market prices for wheat and corn.
+++ Latest News: Black Sea Grain Initiative extended again +++
The grain agreement between Russia and Ukraine was extended for another 60 days in March 2023. This means that cargo ships carrying grain can depart from Ukrainian ports for at least another two months. Along with Russia, Ukraine is the main supplier of corn, wheat and sunflower oil and is also referred to as the 'breadbasket of Europe'. The Russian attack on Ukraine is driving up prices for agricultural products dramatically. The crisis is hitting the poorest the hardest. Some poorer countries in the Global South rely on direct imports of grain, including from Ukraine. Other countries do not import grain from Ukraine, but they too are seeing grain prices rise enormously due to the global shortage – at the expense of the poorest. The war in Ukraine has caused global food, energy, gas and transportation prices to rise.
The humanitarian situation in Ukraine is appalling. Millions of people, especially women and children, have fled. The EU Commission and the UN expect that several million more Ukrainians will be forced to leave their home country.
The FAO Food Price Index (FFPI) consists of five commodity groups: Meat, Dairy, Cereals, Vegetable Oils and Sugar. These commodities have been selected because they are of high strategic importance for global food security and for global trade. The Food Price Index tracks monthly changes in international prices for the most traded food commodities.
Food remains expensive
Food prices have risen sharply around the world. They had already reached a record level in January 2022; due to the war in Ukraine, they then virtually exploded. The UN Food Price Index (FFPI) remained virtually unchanged in October compared with September. In September 2022, the FFPI was almost 5.5% higher than a year ago. The rise in the cereal price index was offset by declines in the indices for vegetable oils, dairy products, meat and sugar. The cereal price index was 3% higher in October than in September and recorded a year-on-year price jump of 11.1%.
In October 2022, international wheat prices increased by 3.2%. This was due to uncertainties about the future of the Black Sea Grain Initiative. However, a tightening of supply in the USA also played a role in the price increase. Add to that concerns about drought in Argentina and flooding in parts of Australia early in the harvest season.
There are other facters influencing prices besides the war in Ukraine: Crop losses, expensive fertilizers, logistical problems and high energy prices combine with an overall increase in demand for agricultural goods. Income that has fallen or disappeared as a result of lockdowns also plays a role. The COVID-19 pandemic has also disrupted supply chains around the world, increased unemployment and thus eroded the financial reserves of many people.
The higher world market prices mainly affect the poorer population in countries that depend on imports. People with very low incomes in the cities are particularly affected, but also those in the countryside, such as landless people and small farmers, who are seasonally dependent on the purchase of food.
Food price increases cause hunger 
The effects are serious. The number of people suffering from hunger is rising, and there is a threat of famine. FAO senior economist Abdolreza Abbassian sees little hope that the situation will ease this year. In addition to other factors, the rise in food prices is also contributing to the fact that progress in the effort to end hunger is being thwarted, with up to 828 million people currently going hungry worldwide and more than two billion suffering from malnutrition. According to the FAO, Russia's attack on Ukraine could push another 13 million people into hunger.
Price increase, food, famine – how is it all connected?
Agricultural commodities cost a total of 31% more on the world market in 2020, the first year of the COVID-19 pandemic, than a year earlier (FAO). Oilseeds such as rapeseed cost twice as much. The price of corn has also nearly doubled. Wheat and soybeans have become significantly more expensive. One reason for this was the cost of storage during the pandemic.
In addition, trade disputes, including those in the pandemic, between countries can lead to supplies being halted. Extreme weather events lead to fewer harvests, causing prices to rise. Energy prices, for example for crude oil, which have risen significantly in some cases, also have a major influence on price increases. The difference: In industrialized countries, price increases usually have only a moderate impact – people only have to spend around 12% to 30% of their income on food. But in countries of the Global South, the figure is between 50% and 100%. For many households in poorer countries, higher food prices mean that they can no longer buy food and have to go hungry. There is simply nothing left for other important things such as housing, health or schooling for children.
At the same time, as food prices rise, aid organizations need more financial resources to buy it. And if farmers in the Global South can no longer afford seeds and fertilizer because of rising prices, cultivation and harvests will shrink – and poverty and hunger will grow as a result. This is a vicious circle that must be avoided at all costs.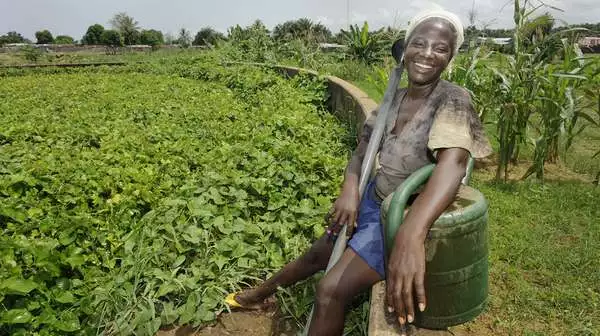 Healthy nutrition is a human right
Global agriculture produces enough food for everyone, but it is extremely unequally distributed.
Multiple crises: fatal for food insecure countries
The Famine Early Warning Systems Network (FEWSNET), FAO, and Welthungerhilfe warn of food price increases and hunger crises, particularly in Ethiopia, South Sudan, Yemen, and Nigeria, but also in many other countries. The combination of climate change, COVID-19 and conflict could drive millions of people into hunger, they said. Countries where climate disasters and conflict already exist are more likely to experience greater price increases because value chains break down more easily there.
Thus, there is a higher risk that these price increases will further exacerbate hunger and conflict. Dr. Rafaël Schneider, Deputy Head of Policy at Welthungerhilfe, has this to say about the development: "We are observing with concern that prices for staple foods such as cereals, dairy products or cooking oil currently know only one direction: up. All the warning lights are flashing red because persistently high food prices simply mean that poor people can no longer afford healthy food and have to do without entire meals. Around 828 million people worldwide are already going hungry today."
Rise in food prices exacerbates hunger in Africa 
The FAO's price warnings are still moderate, as the world grain harvest in 2021 was just above the previous year's level, meaning that global stocks are sufficient. However, according to the Global Information and Early Warning System on Food and Agriculture (GIEWS), the crop prospects for regions where hunger already prevails are depressing:
Conflict in East Africa and West Africa, for example, and poor weather conditions have led to widespread crop damage. 2021 saw production declines in many countries. In some regions, there have been huge increases in food prices. In Mozambique, for example, where armed conflict in the north of the country further drove price increases. The country saw a price increase of 45% for cassava flour between March and May 2021. These increases have had a serious impact on millions of families whose incomes were already severely weakened by the COVID-19 pandemic. In parts of Uganda food prices in the markets have doubled or even tripled. Prolonged droughts have led to crop failures, and people are dependent on buying food – but many cannot afford this and suffer from hunger.
The following examples show the impact of rising food prices on people in different countries: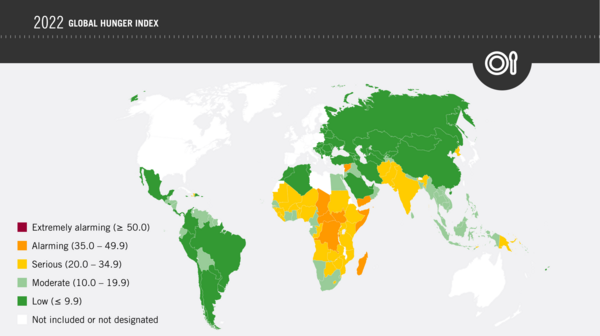 Global Hunger Index 2022
No relief in sight: In many countries, the hunger situation is 'serious' or even 'alarming'.
Ethiopia
In Ethiopia, food prices have risen by up to 74% in the past 13 years. There are various causes for this. For example, developments in the world markets (great demand pressure in urban areas and economically developing countries such as China, India, etc.) play a major role. World market regulations such as protectionist measures and foreign trade deficits weaken the national currency and cause imported inflation. 
These developments have dramatically worsened in the last two years. For example, crop failures, fragile supply chains due to COVID-19, and war in the north of the country have led to economic collapses. The forecast does not look good. An average annual inflation rate of over 35% is to be expected, as well as a permanent significant increase in the price of food. About 25% of the population has to get by on less than USD 1 per day, and about 80% on less than USD 2 per day.
The conflict in Ethiopia's Tigray region has led to the displacement of nearly two million people. Trade, access to humanitarian aid, and livelihoods have been severely affected.
Zimbabwe 
In Zimbabwe, corn is the staple food. The national dish Sadza, a porridge made of maize flour, is usually served with vegetables or (if one can afford it) meat. The price of a kilo of maize flour in urban markets in December 2021 is up 30% from the previous year. Beans and cooking oil have become even more expensive – and that is despite the fact that Zimbabwe had a good harvest in 2021. But crops have not been enough to replenish empty stocks after two years of drought. Increased gasoline and transportation prices are also making food more expensive. On average, households in Zimbabwe spend 55% of their income on food.
At the same time, there is a lack of job opportunities: During the lockdowns of the COVID-19 pandemic, many companies in the cities shut down production or went bankrupt. Day laborers in the informal sector also lost their income opportunities during lockdowns. Because of the poor economic situation, there are few new jobs. As a result, more and more families are forgoing varied and nutritious diets. About one in seven families in 2021 say they are changing their behavior because they don't have enough to eat; the most common response is to buy cheaper and unhealthier food. Then they have plain sadza, without side dishes or vegetables. It fills you up, but it's not healthy.
Burkina Faso 
In Burkina Faso, rising food prices are a major issue. Above all, violence and terrorist groups in the north and east are causing price increases. After the rainy season starting in October 2021, there were more attacks. Food was destroyed by burning fields and camps or slaughtering livestock. 
People fled their villages and took refuge in the cities. Since the displaced are mostly producers and the cultivation and harvest of food is drastically decreasing, there is a shortage of food, especially fresh vegetables – both in the villages and in the cities. As a result, the prices of rice and millet, for example, are rising. 
The COVID-19 pandemic has also contributed to price increases as well as reduced availability of fertilizers. Demand is increasing, but at the same time there are fewer income opportunities. Traders are taking advantage of supply pressures. Imports from Benin, Niger or Mali are decreasing because of the security situation. 
Many people are going hungry. An additional drought in the north has made the situation even worse. According to the FAO, 2.6 million people were expected to be severely food insecure during the peak season between June and August 2022. 
Sierra Leone 
In the last four years, the price of rice has increased by 75%. As it is a staple food, the impact on people's food and nutrition security is enormous. In the last two years, restrictions imposed due to COVID-19 pandemic have severely limited the trade and importation of food products, resulting in a drastic price increase.
Neighboring markets in Guinea and Liberia have seen the same price fluctuations, spreading the problem to the entire West African region. Food security has declined, and households are feeling the high inflation of food prices. The decline in food security appears to be most severe in urban areas, where consumption has also declined the most and households do not have access to homegrown food.
In July 2020, nearly a quarter of households reported that they were unable to buy rice – the most important staple food – due to a rise in prices or a decline in household income. In some regions, people spend 70% of their income on food. 

Rising prices lead not only to poverty, but directly to hunger: families forgo meals and buy cheaper and less healthy food. Child labor increases when parents have to send their children off to earn money instead of going to school.
Dr. Rafaël Schneider
Deputy Head of Policy at Welthungerhilfe
Other global factors that can lead to a food price crisis and thus hunger:
Rising energy costs
Climate effects
Increasing transport costs, transport failures
Pandemic-related labor losses in agricultural production
Rising fertilizer prices (rising agricultural production costs overall as energy costs, labor costs, agrochemicals, etc. rise)
Political saber rattling
Some countries (e.g. Russia, Mali) are already restricting their agricultural exports (another price driver, which was already fatal in 2008/9)
Impact of rising food prices in the Global North
These crises and problems, some of them multi-fold, should be taken very seriously in order to escape a second food price crisis like the one in 2008/2009. Grain prices are exploding along with the upward trend. Since fertilizer prices have also risen enormously, farmers in the USA, for example, are growing soybeans instead of corn and wheat. A possible grain shortage could cause global prices to rise further. 
In the coffee-growing sector, many workers, for example in Vietnam, have been unable to work on plantations because of Covid. In many coffee-growing regions, global warming is leading to reduced harvests. For many small farmers, cultivation is becoming unprofitable and they are switching to vegetable production, for example. In addition, transport costs are rising sharply and are currently being exacerbated by a shortage of containers. The consequence according to coffee traders is that the coffee price will increase by about 20%. 
More expensive food, more hunger & higher aid costs 
There are no signs that food price trends will stabilize in 2022, Schneider says. "The harvest prospects for famine regions in Africa and Asia are bleak. The affected countries must quickly prepare social security measures to ensure that people have enough to eat. In the medium term, they must invest more in their agriculture, because now it is taking revenge for the fact that too little was done after the last crises," Schneider demanded. Countries like Germany need to step up their support for hunger reduction and rural development. Short-term export stops for agricultural products should be avoided.
Food price increases: how Welthungerhilfe provides support 
To tackle poverty and hunger around the world, as well as the effects and consequences for people, food systems must be made sustainable and poverty-reducing, and disasters must be better prevented. There is a particular need for rapid action locally, such as building strategic reserves of food, ensuring the availability of adapted seeds, sustaining the promotion of innovative farming methods, advancing comprehensive risk management, or promoting measures to adapt to climate change. 
Measures in Response to Food Price Increases
In Zimbabwe, we support people who have been selected in accordance with strict vulnerability criteria. They receive USD 10 per person per month on their cash card or vouchers for supermarkets to buy food. Furthermore, they receive training on how to grow and market healthy vegetables in small urban kitchen gardens. During the pandemic, the existing problem of domestic violence has increased in Zimbabwe. Our employees in the projects are available to provide advice and find ways to strengthen the families. Income opportunities are developed, especially for women, to prevent them from being forced into prostitution.
Initial measures have already been taken in Burkina Faso. For example, a price control unit has been set up to monitor local food prices and prevent speculation on the market. In our projects, especially in emergency projects, we carry out food distributions and cash transfers. We carry out a market analysis and adjust the distribution depending on the price standard in the market. We check how much a kilo of maize or millet currently costs in the market and adjust the distribution taking into account the price standard.
Welthungerhilfe's demands for the implementation of site-specific agriculture, which can prevent possible famines caused by the rise in food prices:
Short-term
Avoid export freezes – in the event of impending crop failures in famine regions, it is important that the global agricultural market remains stable and can compensate for undersupply. 
In crisis regions, adequate food supplies must be ensured even if food prices rise. Affected states should prepare for sharply rising prices and prepare social security measures (e.g. cash assistance). 
Donor countries must adapt their services to food price increases.
Medium-term 
Governments should develop and implement a policy agenda for agricultural consultation that focuses on food security and income generation for the rural poor.
Agriculture should maintain and further expand the high priority given to it by national governments and international development agencies, and its resources should be increased accordingly.
The promotion of site-specific agriculture is a key component of the food system and an important tool for fulfilling the human right to food.
Countries in the Global South need to implement integrated, transparent and participatory regional policies that focus particularly on the agricultural sector and its linkages.
Activities and initiatives that create new jobs beyond agriculture should be particularly strengthened.
Vocational training and continuing education, especially for young people and women, are urgently needed, as is the transfer of know-how and adapted technologies.
More on this topic