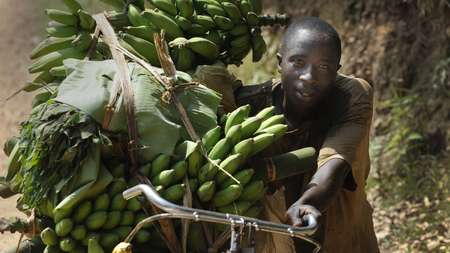 8.02 m. €
funding in 2019
850,000
people reached in 2019
The second-largest country in Africa is one of the world's poorest despite its wealth of natural resources. More than half of the 94 million residents of the Democratic Republic of the Congo live below the poverty line. The country is defined by political instability, war and violence. Welthungerhilfe's work focuses on sustainable food security, agricultural training, road construction, social integration and emergency aid.
Donate
All Countries
More projects in Democratic Republic of Congo
Rank in Global Hunger Index
GHI value 2018 for Democratic Republic of Congo
extremely alarming

> 50
low

< 9.9
Global Hunger Index (GHI) of Welthungerhilfe and partner calculates the nutritional situation of a country once a year. The lower the GHI value, the better the rank and the better the situation.
More about Global Hunger Index
82.24 million
population (2019)
9.1%
child mortality (2019)
-%
of the population is undernourished.
Global Hunger Index
-8,1
Score (32.0 in 2010)
Publications about Democratic Republic of Congo