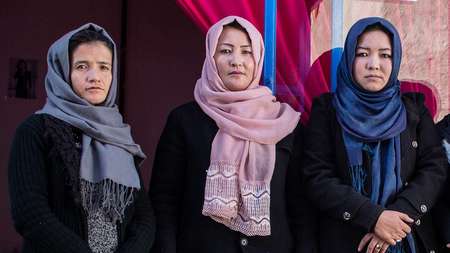 Training Young Entrepreneurs
Shahnoz had just finished high school and was considering applying to university to study medicine when her parents married her off to an illiterate cousin. "I came home with my diploma and my father told me he had a surprise for me," Shahnoz remembers. "He said, 'your reward is a husband'." Shahnoz's life crumbled. She had grown up as a refugee in Iran, but just a few years after her marriage was sealed, both Shahnoz and her husband were deported to Afghanistan ­– a country neither of them had visited before. "I had lost everything, and there I was in Kabul, a city I didn't know, and with a husband who had never been to school. I had so many dreams, but they all faded away," she says.
"He sits at home while I earn an income."
But while her husband, a daily construction laborer, was never able to find a job, Shahnoz decided she wouldn't give up. Today she's 33, with an eight-year-old son and a three-year-old daughter, and she says that she feels frustrated in her marriage. "He sits at home while I earn an income. I want to push him to be more ambitious, but he's not," she says of her husband, but also admits that she's thankful he is open-minded enough to let her work. Shahnoz knows that she's strong-willed and goal-oriented, qualities she sees in many women in Afghanistan, even in those who are locked away behind closed doors. "My first life has passed, but I can't give up now that I'm in Kabul," she says.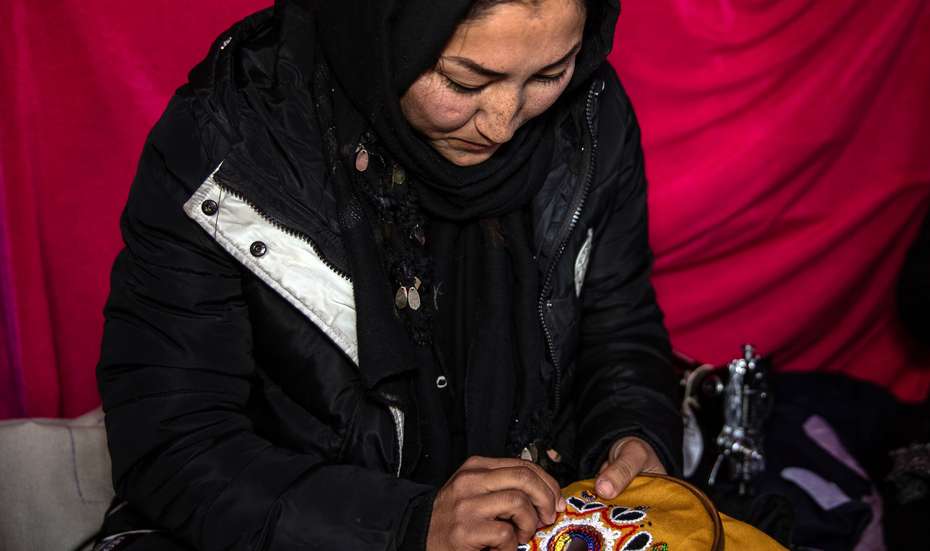 Shahnoz at work. She has taken part in Welthungerhilfe's vocational training program in Kabul. © Stefanie Glinski
Kabul City is the main recipient of returnees from Iran and Pakistan since the fall of the Taliban regime. A lot of Internally Displaced People (IDPs) are also staying in Kabul, fleeing from the insecurity in their home provinces. The city has difficulties handling the influx of immigrants. Welthungerhilfe (WHH) is offering vocational training, supporting returnees and IDPs to take their future into their own hands.
Preparing 600 young Afghans to set up their own businesses
Shahnoz was one of 600 young women and men selected to participate in WHH's vocational skill training. The program, which lasts a year and requires daily class attendance, offers apprenticeships to young Afghans who, by the end of it, are equipped with the skills to set up their own businesses to practice their trade. Shahnoz chose to become a tailor, while others have gone into car repairing, carpentry, computer and mobile repairs, hairstyling or plumbing. Those who participate often come from families who returned to Afghanistan. Shahnoz finished her training a few months ago at the Afghan Technical Vocational Institute. Teacher Layla Barati guided Shahnoz and the other tailoring students through the year. "We teach anything from knitting to tailoring and traditional stitching," she explains.
Abdul, 18, is training to be a carpenter in Kabul. © Stefanie Glinski
"My mother was a teacher and I decided to do the same. The students who are supported by WHH don't have to pay tuition fees and they also get a stipend for transportation costs, food, as well as pocket money," Layla explains. Many wouldn't be able to participate in the program otherwise, as going to school for a year means not having an income through casual labor. After the year, students will be much better equipped and will make larger incomes. "Last year, 260 students graduated and we have new classes that started this year. Most were able to get internships after or have even opened their own shops," WHH Project Manager Abdul Fahimi explains with pride.
"I have a new dream now. I'm an entrepreneur."
Two months ago, Shahnoz opened her own tailoring shop together with five other graduates. For Shahnoz, this is just the beginning. "I wasn't able to stay in Iran and realize my dream there, but I have a new dream now. I'm an entrepreneur and I want to grow my business," she says proudly, a determined smile appearing on her face. "I'm starting on a small scale here in Kabul, but I want to build connections and eventually sell internationally. I'm now a businesswoman and I have many goals for the future." As for her children, Shahnoz says that they will live a different life. "My parents didn't give me an opportunity, but I will do it differently for my children. They will go to school and get an education. They will get all the opportunities I can give them."
Welthungerhilfe's Vocational Training Programme In Kabul
600 young Afghans take part in vocational training programs
200 people receive business trainings at least 50 of whom receive a start-up loan
More than 6,300 family members benefit from better household incomes thanks to the training
WHH is training 50 staff members of its local partner ATVI in organizational development