Female Power: More Knowledge Means More Influence
Perfect climate, perfect growing conditions. Saffron offers women in Afghanistan the chance to earn their own income.
Saffron cooperative stands on its own two feet
Welthungerhilfe's (WHH) saffron project was completed as planned. The saffron cooperative now stands on its own two feet and continues its work – even under the current difficult conditions. In March 2022, for example, the cooperative participated in the Farmers Day in Kabul, a small agricultural fair where local initiatives can present, market and sell their products. WHH continues to occasionally support the cooperative in marketing the saffron.
In crisis-ridden Afghanistan, many families are struggling to make ends meet. Women in particular often have no chance to contribute to earn their own income. In the province of Herat, a WHH project now offers women the opportunity to learn how to grow saffron and earn a profit. The climate is perfect – and so are working conditions, because the crocus can be cultivated in their own garden.

Who knows, we might even become Afghanistan's biggest saffron supplier.
Shahnaz Zaidee
Saffron: red gold from Afghanistan
Concentrated and skilled, Shahnaz Zaidee sorts the saffron flowers with tweezers into a tin can. Exactly five grams of the fresh, deep red spice should be in every can. The delicate fragrance of this small amount fills the entire room. "Afghan saffron is the best in the world," the 25-year-old says proudly. The young woman is an expert on the precious spice. A year ago, Shahnaz received saffron bulbs from WHH, which she planted in her parents' field. After several weeks of training, she knew exactly how to care for and harvest the young plants. Saffron is one of the most expensive spices in the world because its extraction is tremendously complex. The fine pistils of the purple-flowering crocus are plucked by hand and sold as dried saffron threads, usually in tiny quantities. Just a few threads are enough to flavor a dish and give it the characteristic yellow coloring.
Together with other women, Shahnaz took part in several courses organized by WHH's local partner "Rehabilitation Association and Agriculture Development for Afghanistan" (RAADA). Together, the women then decided to form the Saffron Association, which Shahnaz now heads. "As an association, we are stronger, especially in a country where men continue to rule almost alone," says Shahnaz, who grew up in a village just a few kilometers outside the provincial capital of Herat. Herat is considered a cultural center in Afghanistan. The city was a central trading point on the old Silk Road. Even today, the old citadel and the blue mosque are reminders of a historic past. More than a million people now live here. Life is colorful, rickshaws drive everywhere, and there are stores and restaurants. However, hardly anything has changed in the strictly regulated daily lives of many women.
That is why Shahnaz wants to inspire more women to grow saffron, because it can be done from their own home gardens, and that is important. Often, women are not allowed to leave their homes for traditional and cultural reasons, and many are forbidden to work by their husbands. "It is precisely these women that we want to reach and support with a work opportunity," explains Nazir Ghafoori, director of RAADA. To enable the women to market their products independently later on, courses are held in reading, writing and simple bookkeeping.
Propsects and their own income
With this opportunity, many women finally have prospects and a way out of despair. Like 46-year-old Bibi Gul: "Welthungerhilfe spoke to the elders of our village, and they then convinced our men that it was no problem to work outside. I was allowed to attend a course, and for the past year, I have been growing saffron. We have a field that we cultivate. My husband has given me a piece of land from it. He himself doesn't work much anymore, so my children – two sons and two daughters – have to help in the field besides school so that we have enough to eat. My husband doesn't earn much money. Now I can support my family."
Nazir Ghafoori explains the process of the saffron project: First, a team from his organization visited several villages in Herat province, and together with the council of elders and the families, one hundred women were selected whose living situations proved to be the most difficult. Each of them received 400 saffron bulbs and training. "At first the harvest is smaller, but every year it becomes more. It takes about five years for the bulbs to fully mature – then the women can harvest up to 2.5 kilograms of saffron. The money they earn is theirs alone. Many use it for their children's schooling, food, heating fuel or medicine," says Nazir Ghafoori. A gram of saffron sells for 70 Afghani, almost one euro, in Herat. A good salary for the women, who could not even afford to buy saffron for cooking.
In the last year, I have learned to dream. I have seen how much we can achieve together as women.
Shahnaz Zaidee
Stronger in the community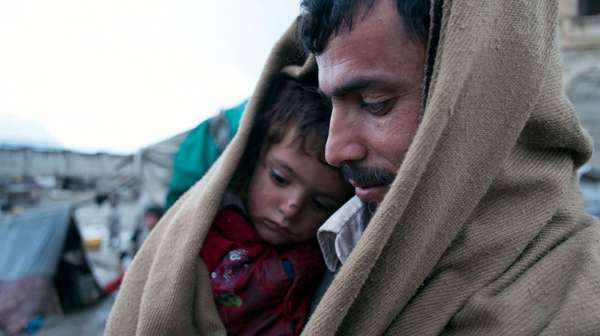 Afghanistan
Afghanistan's economy is at a standstill: lack of infrastructure, little work and only 10% of the people can read and write.
In Afghanistan, over eleven million people do not know how to feed themselves adequately, the infant mortality rate is among the highest in the world, and over half the population lives below the poverty line. Difficult living conditions are therefore synonymous with existential hardship. 30-year-old Anita Zaide also reports on this: "I was married at the age of 15, and a few years later my husband fell prey to drug addiction. He doesn't work, can't provide for me and our three children. But I can't leave him either, otherwise I would lose the children according to the law. I now plant saffron in our garden. The fact that there are other women in my village working in the same project is a great support to me, and with my new salary I can continue to send my children to school." According to UN figures, up to 3.6 million people in Afghanistan live with addiction problems – one in ten in the Central Asian country. Heroin, opium and cannabis are cheap here, often cheaper than a meal, and serve as a perceived but destructive escape from hopelessness in a country ravaged by war for more than forty years.
Shahnaz and the other women, who also have to get through difficult situations, encourage each other not to give up. Many of their fates are similar. Shahnaz, who has a high school diploma, was not allowed to leave the house. Last year, she was engaged by her parents to a man, she says, never went to school himself but is a distant cousin whom her parents trust. At least she gets to participate in the project. The saffron association and the work it entails represent an important step toward independence for Shahnaz.
"In the last year, I've learned to dream. I've seen how much we can achieve together as women. And we will continue to grow our business," says Shahnaz, who has ambitious plans. So far, they sell the dried saffron threads to smaller local companies that supply private customers. In the future, the women plan to sell the fresh saffron flowers directly to exporting traders who will pay more and sell the flowers directly to the Middle East and Europe. "It's going to be a lot of work, I know that," she admits, but since Shahnaz started her own business, there's no turning back for her. "Who knows, we might even become Afghanistan's biggest saffron supplier," she says, full of energy.
Getting the men on board
The saffron cultivation is part of a WHH project that is taking place in three regions at the same time. Supported by the German Federal Ministry for Economic Cooperation and Development, the project promotes food security and economic participation of women in the northern provinces of Samangan and Jawzjan as well as in the western province of Herat. This requires a cautious approach in the traditionally dominated country. For this reason, WHH and its partner organizations involve men and community elders in all activities.