From Berlin to Harare: The Journey of a Volunteer
MBA student Rahul shares his experiences volunteering for Welthungerhilfe in Zimbabwe.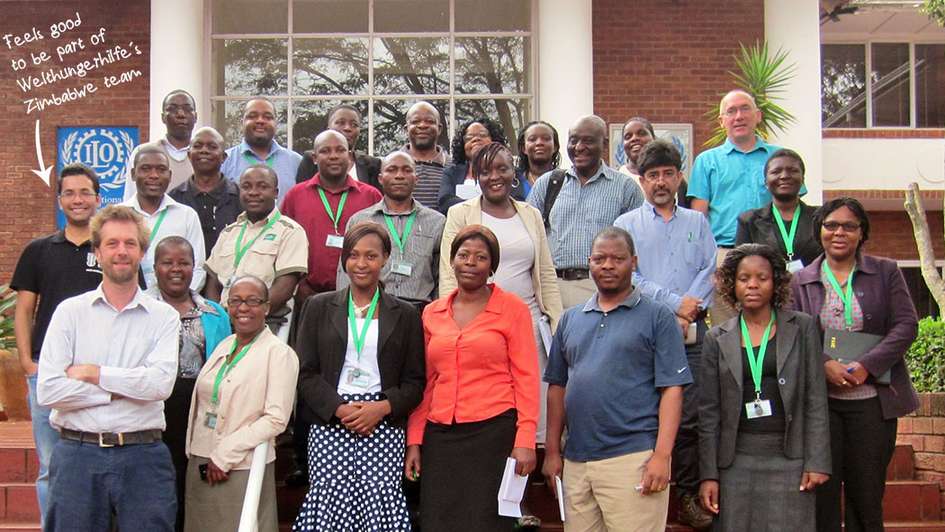 As my first week at Welthungerhilfe's Harare office comes to an end I thought of reflecting on my journey till this point. I was pursuing my Masters in Business Administration (MBA) at the European School of Management and Technology in Berlin and my college provided an option to do a six months volunteering internship with a Non-Profit organisation, post completion of the course under its Responsible Leadership Fellowship program. Welthungehilfe, as we all know, is a recognised name in the field of developmental cooperation and emergency relief aid, with a rich history of more than fifty years. I approached their team for possible volunteering opportunities in one of their regional offices. The team was very transparent and professional in every step of the application process and made sure the opportunities put across were indeed safe for volunteers.
After an in-depth interview and discussion I was selected for a position to support the marketing team based in Bonn through my work in the southern Africa region (constituting Zimbabwe, Malawi and Mozambique). Post completion of my course in December, I was invited to visit the Bonn office to understand the vision, marketing function and overall working of Welthungerhilfe. Again the team was as supportive and professional as it was during the selection process.
Finally the time came when I packed my bags in Berlin and flew to Harare, Zimbabwe.
My flight was rebooked due to bad weather and arrived at 1.30AM the next day instead of 11AM originally scheduled. In spite of the odd time and change in schedule, the regional office in Harare made sure there was a safe arrangement to reach my apartment. That moment made me realise how much this organisation cares about its people and stakeholders, irrespective of who they are.
The first day started with introductions, followed by orientation about various projects under the portfolio of Zimbabwe regional office. I was very impressed with the kind of activities carried out by Welthungerhilfe in the region and the impact these projects make in the life of people lacking basic infrastructure and facilities. Be it WASH (Water, Sanitation and Hygiene), SELF (Sustainable Services for Everyone beyond the Lifetime of the project at a Fair price) or SIMBA (Sustainable Intensification of Market Based Agriculture) projects, the positive impact they made could easily be felt through the description and data. All this validated my decision to choose Welthungerhilfe as the organisation to pursue my volunteering internship. I felt the real urge to go to the field, see for myself and document the stories of the impacted people, which is part of my assignment.
Interestingly, it was not just a new beginning for me but also for Welthungerhilfe's team of 27 friendly employees based in Harare. At the beginning of the year, the team had moved to a new office (a nice little space in a complex shared with other international organisations such as UNHRC, ILO and OXFAM) and had started to familiarise itself with the new surroundings. However there was no slack or lack of energy and everyone was already gearing up for another impactful year. Here is good luck to the new beginning for all!
++++++++++++++++++++++++++++++++++++++++++++++++++++++++++++++++
You want to read more? Have a look at my post "Lessons in happiness" on esmt blog!