Water Is Getting Scarce
In Malawi, one of the most peaceful countries in Africa, climate change is making life difficult for both fishers and farmers. Its largest lake is drying up, and harvests are becoming unpredictable. Welthungerhilfe wants to ward off the crisis with vegetable gardens and planting efforts.
Long before the term "climate change" reached the village of Chilambwe in the African country of Malawi, Cecilia Masina had already realised that something was not quite right. Here, in the south of the country, sandwiched between Tanzania and Mozambique, climate change was intensifying year to year: The weather could become unbearably hot and then, when the maize had grown waist-high, the rains would either fail completely, or they would fall with a vengeance, washing away plants and soil. The pattern of planting at the beginning of the rainy season in November and then harvesting in April had been broken. Sometimes there would be only a little rain, then none at all, eventually followed by torrential rainfall. Each year, the harvests kept getting worse.
Pests And Climate Change Endanger Livelihoods
The farmer's field used to yield an annual amount of 20 sacks of maize weighing 50 kilogrammes each; now, after years of diminishing yields, her field gives her only five sacks. In 2017, this problem was exacerbated by the arrival of the army worm (the caterpillar of the owlet moth), which ate the harvest. In 20 of Malawi's 28 districts, the government declared a state of emergency. She could only salvage two 50-kilogramme sacks of maize, which just was not enough for herself, her husband, and their ten children to live on until the next harvest. Since then, Cecilia Masina knows well that climate change is a threat to her life and to that of her family, despite the modesty of their lifestyles.
Two to three times per week, she goes on the search for firewood, which is becoming ever more difficult to gather because Malawi's population is constantly growing. Since 1950, it has increased sixfold, from three to approximately 18 million people. Now, it takes almost a whole working day to find enough fuel, and two hours per day are also needed to fetch water.
New Hope Through Permaculture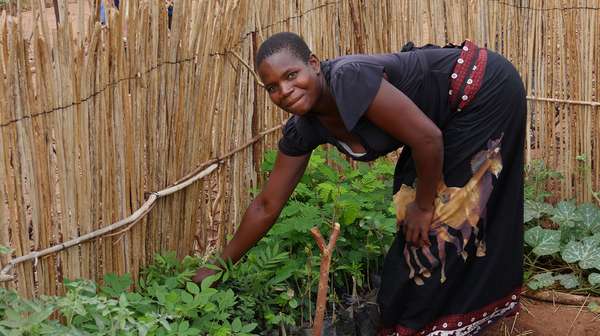 Changing Everyday Life One Day At A Time
Improving the food and nutrition situation in Malawi.
The working day begins at 5:00 a.m. and does not end until after dark. If Cecilia Masina is asked whether her life is hard, she immediately answers yes. However, she draws hope and solace from permaculture, the permanent cultivation of crops. Peas, broad beans, pumpkins, okra, and tomatoes are planted in a carefully-arranged order. Even run-off from the primitive shower serves to water a banana tree. A rabbit hutch also recently joined the ensemble.
The long-eared animals provide meat, fertiliser, or income from being sold on the market. All of this is part of a project by Welthungerhilfe and local partners. This 42-year-old woman is a kind of model farmer. She applies all the tricks she learned from the experts to create a small, heavenly vegetable garden.
No Fish, No Water: Concern About Lake Malawi
Malawi is often recommended as a secret treasure in alternative travel guides. It is agriculturally diverse and relatively uncomplicated for tourists to visit. However, the deceptiveness of this idyllic image is exemplified by the nearly 600-kilometre-long Lake Malawi. In addition to the people recklessly overfishing its waters, it is now being affected by climate change too. The water level is steadily falling. In the neighbouring village, Irene Pathiwi stands in an iridescent green field. "Everything here was still underwater ten years ago", she says. In 2010, the lake receded, and the shallow waters that came close to the 60-year-old's front door dried out. Its grass islands were a breeding ground for fish. Irene Pathiwi's simple house is home to her five children as well as grandchildren, for a total of eleven people plus one unwanted guest: a constant lack of food.
Lake Malawi stretches behind the next hill. It is an idyllic sight: People are washing themselves, the shoreline is marked by a bright strip of green, and a blue sky spreads over its water's silver shimmer. However, the fishers currently have no work and are supplementing their incomes by selling sand. No-one is allowed to fish for the three months prior to the beginning of February due to shrinking fish stocks, but the boys at the roadside trying to sell fresh fish of all sizes to passing drivers show how little the law is respected. Idon Chadzuka, the head of the fishery committee, believes the law to be necessary. The 54-year-old explained that it had already become difficult to catch the small bait fish needed to make a large catch. This was due to climate change, he said, almost automatically. However, he eventually did admit that people bear the primary responsibility in this case. The fishing ban is being ignored, and even the breeding grounds for fish are now being harvested with fine mosquito nets.
Combating Soil Erosion With Forest Gardens And Tree Nurseries
Malawi loses approximately three percent of its trees every year, and this figure is on an upward trend. Most end up in illegal charcoal kilns. Even in the capital Lilongwe or in the metropolis of Blantyre, charcoal is used to prepare meals because the power grid is overloaded and unreliable. Hour-long outages are common. Where there are no longer any trees with roots to hold on to the soil or leaves to protect the ground from drying out, the effects of climate change are amplified as rain washes away crops and fertile soil. Forest gardens are being promoted to address this problem, and saplings are being planted throughout the country so that vegetables can ripen under the shade of trees. Welthungerhilfe supports such projects and can count on the committed support of local comrades-in-arms.
Manemba Taim, the leader of several villages, is one of them. With the help of the German organisation, a small tree nursery was established in Chilipa. This nursery is very close to the 58-year-old's heart. He leads visitors to a nearby field that is bisected by an erosion ditch that is so deep that they need to make a large detour to get to the other side. "This is what will happen if we just stand idly by and watch", he says. "Many people do not heed the warnings because they are poor." However, they all know that they are risking their children's future if they continue to recklessly cut down the forests for charcoal. If things continue like this, the village has no future. Endless tree stumps protrude from the desiccated ground like a bed of rotten teeth.
A few steps further on, everything seems right with the world again. A young boy runs up to a mango tree holding a long pole with a net attached to its tip and tries to snag one of the sweet fruits and pull it down through the dense foliage. Maybe we will one day have to move on, muses the village elder, possibly across the border to neighbouring Mozambique. After all, there are still trees there. Then the people would flee, not from war or persecution but from the climate—and the tranquil land of Malawi would start making the headlines.
This is an edited version of an article that originally appeared in German in the Kölner Stadt-Anzeiger, a German daily newspaper published in Cologne.