Towards a paradigm shift in the global food system?
The United Nations Food System Summit 2021 - More food is being produced worldwide than ever before. At the same time, hunger figures have been rising again and now threaten to breach the one billion mark by 2030.
The United Nations Food Systems Summit (UNFSS) recently addressed the need for change in our global food system. It was the first UN summit of its kind held in New York in late September 2021 as part of the UN General Assembly.
Concept
This summit was the first UN summit to be based on the concept of the "multistakeholder approach" and the first of a total of six UN food summits (von Braun 2021a) to address food systems holistically. In addition to government representatives, scientists, the private sector and representatives of civil society organizations were participating.
The concept of food system is complex (von Braun et al. 2021b; Nguyen 2018). It encompasses the way food is produced, processed, retailed, and consumed, including the actors involved and the corresponding socioeconomic and environmental impacts of their actions (Welthungerhilfe 2019).
Hunger: Facts & Figures
Learn about the causes and consequences of hunger, where the situation is worst and what should be done to overcome hunger.
Since the summit was announced in October 2019, a large number of experts have been working in various work streams and thematic areas. More than 1,500 different dialogues were held, involving - according to the organizers - over 100,000 participants (United Nations Food System Summit 2021a); and their results were to be incorporated into the summit (Patton et al. 2021). In addition, a high-level science panel flanked the summit to ensure that scientific findings were appropriately reflected and taken up in the negotiations (von Braun et al. 2021c). Among others, this included (re)defining the term "healthy diet" (Neufeld et al. 2021). The panel issued a series of publications (United Nations Food Systems Summit - Scientific Group 2021), organized "science days" and facilitated the organization of scientific panels, the results of which were incorporated into the design of the summit as independent dialogues.
The considerable interest in this process cumulated in a virtual pre-summit in Rome at the end of July with 22,000 participants. The main summit in New York was then attended by 157 delegates from UN member states at the invitation of UN Secretary-General António Guterres.
At the main summit, more than 150 countries committed to "national pathways" to transform their own national food systems in whatever way and to whatever depth they envision. In addition, non-state actors were invited to express what their mandatory contribution to improving food systems will be.
Criticism
Since the earliest planning stages, the UNFSS process has been accompanied by criticism from various quarters and for different reasons, the most important of which was the multi-stakeholder format. This approach, new by UN standards, releases nation states from their direct responsibility for initiating and channeling a system-wide change while at the same time defining, among others, representatives of corporations as legitimate negotiation partners, despite their (often) significant role in unsustainable food systems. This and other points of criticism led to a "Counter-Summit" (Food Systems 4 People 2021) in July 2021, which was attended by around 9,000 people. There, representatives of civil society organizations and indigenous groups discussed alternative pathways for transforming the global food systems. The focus was on human rights-based and agroecological approaches, the use and application of traditional knowledge, and food sovereignty.
The summit
The UN summit was heralded by its organizers as a fundamental game-changer: It was supposed to radically realign the poles of the global food system and contribute significantly to a more sustainable design. But the expectations of the summit were too high, and the goal of charting the course for a new global food system failed to materialize.
Open questions
Major challenges of the summit are
the voluntary nature of the commitments,
the breadth and variety of commitments to particular actions made by a broad range of actors and groups of actors,
the still undefined control mechanisms for the implementation of the voluntary commitments,
the danger that states do not live up to their responsibility and do not see it as their duty to set the course for an actual system transformation,
the absence of radical systemic reorganization, struck down in favor of numerous national action plans, in other words, solution strategies that are focused merely on respective national concerns.
Discussion
While it is important to develop context-specific solutions that also include cultural and natural factors as core elements, the challenges facing our food systems do not end at national borders. Essential aspects such as international trade flows, water and resource cycles, but also financial and political imbalances between states and regions must be considered as central aspects. If the challenges of the 21st century are to be met effectively, merely marginally optimizing the current food systems is not enough. On the contrary, the food system must be rethought and revamped at central points and in key processes. Despite all the criticism of the UN summit, however, it should be noted that the need for the transformation of the global food system has since been prominently anchored in the agenda of the international community – at least for the moment. That in itself is a success, even if it does not meet current demands.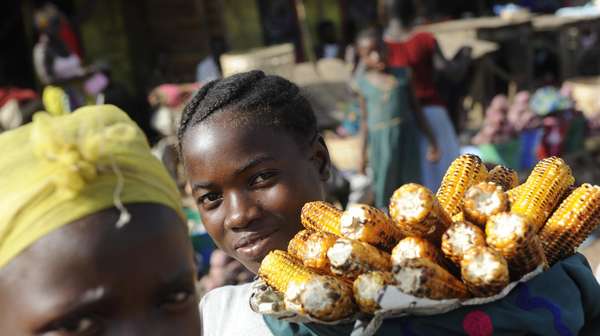 Nutrition and Food Security
Improving nutrition and food security is Welthungerhilfe's primary goal as part of our global mandate to fight hunger and poverty.
Outlook
In the aftermath of the summit, it will be important to continue to define the development and design of sustainable food systems as essential building blocks of the 2030 Agenda for Sustainable Development. Food systems must remain a top priority on the level of decision makers. Secondly, it is important to accompany, monitor and consistently follow up on the fulfillment and shaping of the commitments in the short, medium and long term. There is an urgent need to hold particularly those stakeholders accountable, who are now so prominently coming forward with their commitments. Third, the national action plans (United Nations Food System Summit 2021b) will have to be measured above all by whether they improve the situation of the people most affected by the social and ecological consequences of the existing food system: indigenous and other socially disadvantaged groups, especially in the global South. This also requires systemic (policy) impact assessments in the global North that examine how economic and policy initiatives affect food systems in the global South. Above all, the realization of the human right to food must play a central role here. Fourth, power imbalances in the global financial and trade system must be permanently overcome, because this is the only way to develop and implement truly sustainable food systems.
Authors: Dr. Harry Hoffmann, Asja Hanano, Lisa Maria Klaus
First publication in German in "Ernährung im Fokus" 04/2021 published by "Bundeszentrum für Ernährung (BZfE)" at the "Bundesanstalt für Ernährung (BLE)" – www.ernaehrung-im-fokus.de and www.bzfe.de.
Bibliography
Food Systems 4 People: No to corporate food Systems! Yes to food sovereignty! www.foodsystems4people.org (2021).
Nguyen, H.: Sustainable Food Systems: Concept and Framework. Food and Agriculture Organization of the United Nations (FAO), Rome (2018).
United Nations Food Systems Summit: Food Systems Summit Dialogues Gateway. summitdialogues.org (2021a).
United Nations Food Systems Summit: Member state dialogue convenors and pathways: summitdialogues.org/overview/member-state-food-systems-summit-dialogues/convenors/ (2021b).
United Nations Food Systems Summit – Scientific group: Scientific Group Reports sc-fss2021.org/materials/scientific-group-reports-and-briefs/ (2021).
Neufeld, M., Hendriks, S., Hugas, M.: Healthy Diet : A definition for the United Nations Food Systems Summit 2021. Bonn: Center for Development Research (ZEF) in cooperation with the Scientific Group for the UN Food System Summit 2021 (2021).
Patton, M.Q., Podems, D., Wildschut, L., Roefs, M., Silubonde, T.: Synthesis of Independent Dialogues. Report 2. www.un.org/sites/un2.un.org/files/unfss_independent_dialogue_synthesis_report_2_0.pdf (2021).
Von Braun, J.: Wege zu nachhaltigen Ernährungssystemen – der UN Food Systems Summit und wir. Keynote und Präsentation zum nationalen Dialog "Wege zu nachhaltigen Ernährungssystemen - Ein deutscher Beitrag für den UN Food Systems Summit 2021". https://www.ble.de/DE/BLE/UN-Food-System/UN-Food-System_node.html (2021a).
von Braun, J., Afsana, K., Fresco, L. O., Hassan, M., & Torero, M.. Food system concepts and definitions for science and political action. Nature Food, 2, 748-750. doi.org/10.1038/s43016-021-00361-2 (2021b).
Von Braun, J., Afsana, K., Fresco, L.O., Hassan, M. (Hrsg): Science and innovations for Food Systems Transformation and Summit Actions. Papers by the Scientific Group and its partners in support of the UN Food System Summit. Bonn: Center for Development Research (ZEF) in cooperation with the Scientific Group for the UN Food System Summit 2021. (2021c).
Welthungerhilfe: Hungrig nach Wandel. Was die Bundesregierung auf dem UN-Gipfel zu Ernährungssystemen erreichen sollte. www.welthungerhilfe.de/aktuelles/publikation/detail/hungrig-nach-wandel/ (2021).