Coronavirus in Africa
COVID-19 has exacerbated hunger levels in Africa
COVID-19 has spread all over the world and infected millions of people. For several million of those infected, the disease has been fatal. The virus not only has health consequences, but in many places, it also has dramatic effects on the economy and the food situation. Hunger and poverty have worsened in Africa – especially the poorer population is suffering.
COVID has hit the poorest the hardest
The waves of infection were less severe in most African countries than, for example, in India, Brazil, the USA and Europe. However, it is not always clear how reliable the available data is. Another factor is that the African continent is much more vulnerable than, say, Europe or the United States. The consequences of the COVID-19 pandemic have been particularly devastating for the poorest. Many people lost their income due to output restrictions. However, many countries of the Global South have no social security system to absorb such losses. More money and structures are often needed to contain the economic impact. In crises such as the COVID-19 pandemic, the risk is high that more and more people will fall into absolute poverty and be unable to survive without help. The economy collapsed in many African countries, and food prices rose dramatically, increasing hunger.
In Sierra Leone, Welthungerhilfe employee Tity Simbo Kamara explains symptoms of COVID-19 to villagers and how they can protect themselves against infection. © Welthungerhilfe
A lot of people in the Global South are self-sufficient. In the evening, they eat what they have worked for during the day. That's why every day without work threatens their existence. A large proportion of the population in many African countries works in the agricultural sector. Millions of people lost their income due to the pandemic and had no or limited access to clean drinking water and sufficient food. If available, reserve stocks were quickly depleted, and famine was imminent in many regions.
An Alliance2015 study conducted in projects in 25 countries of the Global South confirms these fears: Nine out of ten respondents became poorer due to the COVID-19 crisis. For four out of ten, access to food worsened.
Welthungerhilfe's (WHH) measures against hunger caused by COVID-19
Distribution of agricultural materials such as seeds and tools, as well as livestock
Income-generating activities
Direct support for vulnerable people to build their health, e.g., medical check-ups for pregnant and lactating women and young children
Additional support with nutritional supplements
Providing people with food assistance
Direct cash assistance to particularly vulnerable families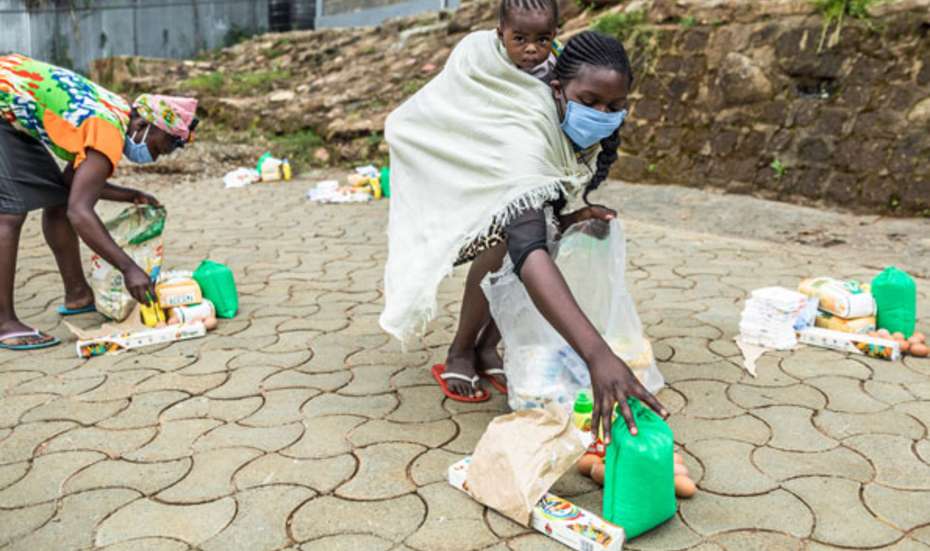 Madeline Shimulii supplied herself and her child with much-needed food from a WHH food distribution in Nairobi, Kenya. © Welthungerhilfe
Many African countries were already in crisis and conflict situations before the pandemic: People in South Sudan or the Central African Republic, for example, have been experiencing violent conflicts for years; in Ethiopia, Kenya and Malawi, climate change-related crop failures and natural disasters are increasing. In many African states, the pandemic has led to a "crisis within the crisis."
Africa's experience in dealing with epidemics
Unfortunately, epidemics are not uncommon in Africa. Ebola outbreaks have killed several thousand people in recent years. The Democratic Republic of Congo was particularly affected, with over 2,000 people dying in the last major outbreak. For two years, attempts were made here to defeat the virus – with success: the Ebola outbreak in the northeast of the country was officially declared over in June 2020.
The fight against the Ebola epidemic was a critical lesson in epidemic management for many African countries. In some cases, authorities took measures to contain the novel coronavirus more quickly than in Global North countries.
A woman and her child at an Ebola checkpoint in 2014, being checked for symptoms typical of Ebola. © Daniel Pilar
Above all, early disease containment is crucial to avoid overburdening fragile health systems. Education plays a significant role in this. During the Ebola epidemic, many people took false information on board. Only clarification from trusted persons such as teachers, pastors and community leaders helped many people to understand the disease and take precautions.
WHH's measures against the spread of the COVID-19
From the pandemic's beginning, WHH's aim was to safeguard all work processes and continue our projects worldwide while protecting our local teams. We continue working with communities to fight hunger and remain at the forefront of the fight against COVID-19.
WHH's teams have already gained valuable experience dealing with epidemics during the past Ebola outbreaks in Liberia and the Democratic Republic of Congo. We provided support for educational courses on the epidemic and hygiene and the setting up of hygiene facilities and treatment centers.
In Bangladesh, our partner organization Anando in the Khagrachari district demonstrates correct hand-washing techniques to protect against an infection with COVID-19 © Welthungerhilfe
With a global COVID-19 program, we and our partners have supported five million people in 36 countries. Besides hygiene measures, we also provided food and long-term support for people trying to resume their economic activities and be better equipped to withstand crises in the future. This support includes investments in agriculture, water and sanitation, and support for local markets and value chains.
Further Reading