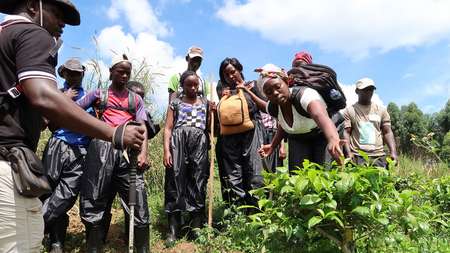 Uganda
"Ecopreneurs" for a sustainable future
It's 7 am in the Rwenzori region of Uganda: a group of young adults with walking sticks and rubber boots are already waiting at the edge of the forest. They are about to begin an educational tour through the rainforest. Today they will learn, for example, which sounds could provide a warning of danger, and how to behave if they encounter an elephant. They are all "Green College" students and are studying "Eco-sensitive Tourism".
When I finish the course, I want to continue studying in the field of ecotourism. And after that, I would like to open my own camping facility.
Alfred
Green Colleges student in Uganda
Sustainable education to combat hunger and poverty
The fifteen "Green Colleges" that Welthungerhilfe has set up together with local partner organisations are training centres for sustainable professions. Training is being provided to 1,000 young people who would otherwise have little chance of finding an apprenticeship. The majority of people under 25 in Uganda are unemployed. The reason: many young people are forced to drop out of school because they or their families can no longer afford the school fees. They therefore do not have the necessary qualifications to undertake an apprenticeship – and are thus denied the prospect of a life free from hunger and poverty.
In a country like Uganda, where 70% of the population is under 25, young people are crucially important to the country's economic future. The majority of the population earn their living in agriculture and depends on natural resources. However, the effects of climate change are already being felt in Uganda. Deforestation, pollution and overuse of grazing land are exacerbating the situation. The clear answer to this is developing an agricultural economy in which available resources are used efficiently and sustainably.
Green Colleges in India
The concept of "Green Colleges" was developed in India and focuses on training programmes for sustainable professions.
"Green Colleges" provide education and protect resources
The "Green Colleges" link these components together and thus directly achieve two goals: Young people are educated and have better chances of finding a job or setting up their own business. And resources are preserved by a new, more environmentally aware generation. In the training centres, young women and men learn, for example, how to process and sell fruit, how to build energy-saving cookers, how to install solar panels and how organic farming works – or even how to begin a career in ecotourism. They become "ecopreneurs", entrepreneurs in sustainable professions.
How Welthungerhilfe supports young people in Uganda:
At a total of 15 "Green Colleges", around 1,000 young people from the districts of Bunyangabu, Kabarole and Fort Portal are trained in areas such as vegetable cultivation, solar technology, juice processing, mobile phone repair, beekeeping, fish farming, basket weaving and tourism.
After graduation, the graduates receive a start-up package for their own business, such as seeds and advertising tools. In addition, they are guided in the creation of business ideas and business plans.
Following their training, 400 young people gain work experience in two-month internships.
Over the course of the project, a regional campaign is being organized to raise awareness of the Green Colleges and the importance of sustainable natural resource management. The "ecopreneurs" can present their products and skills to potential customers and employers.