Central African Republic
Small fields, large harvests
It is good to have a vegetable field. It is good to be able to harvest enough to sell something at the local markets. It is good to be able to work on this field in peace. The Central African Republic could actually offer its residents all the necessary conditions to do all of this: The soil is fertile, and there is enough rain. Three-quarters of the entire population lives from agriculture, so... But prolonged violence and unrest have held the country in a state of chaos since 2013.
The Vegetable Farmer of Bangui – Fields next to the Runway
Many of the displaced have since begin to cultivate vegetables. Cabbage, watermelons, cucumbers, tomatoes and much more grow in the middle of the airport. The people living on the opposite side of the runway have been cultivating vegetables there for even longer and at an increasing scale. They need to relocate, not least for security reasons.
The necessary land is already there: Only a few kilometres away, there are 100 hectares of land open for settlement, approximately equivalent to 140 football fields. This land was provided by the government. Welthungerhilfe Country Coordinator Georg Dörken and his team designed the plans that are currently being implemented step by step.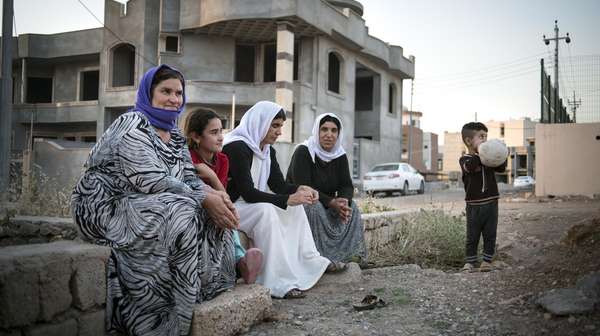 On the topic
read more
Welthungerhilfe Helps People with Farming Fields, Seeds and Training
1,800 vegetable farmers and their families are now receiving new plots for growing food. Each of them will offer a family a new future. This is in addition to two wells, a school, drainage canals, access ways and an infirmary. Market stalls and a warehouse have already been built in the new settlement to allow the food grown there to be brought to merchants and clients.
As soon as the parcels are drawn up and distributed, the farmers will receive all the necessary equipment and a starter package. This includes high-quality seeds as well as training and advice on increasing crop and seed yields. This knowledge will then be passed along from farmer to farmer.
How Welthungerhilfe Supports People in Central African Republic
Another 5,000 vegetable producers in the prefecture of Bangui Rurale are receiving agricultural equipment as part of our project.
More than 510 day labourers and their families are receiving money for their work (Cash for Work programme): They are helping with the clearing and valorisation of the 100 hectares of land.
More than 13,700 local workers, 20% of which are women, are being employed to build pathways and roads and to develop and prepare the land for school, well and infirmary construction.
Help the people of the Central African Republic to improve their living conditions, income and access to food. Donate to our projects!