Global Sustainable Development Report (GSDR): A Long Way from "Zero Hunger by 2030"
Welthungerhilfe Calls for Course Correction in Fight Against Hunger
Bonn/Berlin, 12 September 2023. The United Nations' report on the international community's progress towards achieving their Sustainable Development Goals (SDGs) is far from favourable. Only twelve percent of the goals – which aim to end problems including poverty, hunger, and inequality – are on track to be completed by 2030. There has been no progress towards many of the goals, and others are now even further away than at the start.
The situation is especially dire with regard to the goal of achieving zero hunger by 2030, as the number of people going hungry worldwide has risen to 735 million since 2015. If things continue on their present course, the UN estimates that 590 million people will still be going to bed hungry by 2030 – more than in the year the Sustainable Development Goals were adopted.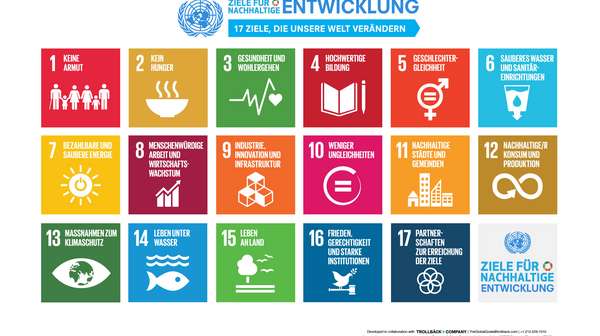 The United Nations' 17 Sustainable Development Goals
With the 2030 Agenda, 193 countries have committed to ensuring that all people can live in dignity by 2030 while at the same time preserving the natural foundations of life in the long term, whether social, economic, or ecological.
"We urgently need to correct course in order to get back on track. The international community has the knowledge and the means necessary to achieve sustainable development, with the SDGs offering a good structure for this process. What we need now is greater commitment to implementing these goals," says Mathias Mogge, the secretary general of Welthungerhilfe.
He adds that next week's SDG summit presents a prime opportunity, explaining, "Chancellor Olaf Scholz should head up a 'coalition of doers', as suggested in his proposed Germany Pact, at the SDG summit in New York in order to renew and expand the coalition's commitments and, above all, to implement them."
To end hunger by 2030, Welthungerhilfe calls on heads of state and government to make a clear commitment to the human right to food. This means that marginalised groups, as well as civil society as a whole, must be included in decision-making processes at all levels.
Press download
In addition, food systems need to undergo a major transformation, which will require adequate and stable funding for development co-operation and humanitarian assistance. In light of this need, the German government's planned budget cuts to humanitarian aid and development co-operation set the wrong tone as Agenda 2030 approaches its halfway point.
"Fifty years after joining the United Nations, the German government wants to take on more responsibility within the UN. The SDG Summit offers the German chancellor the opportunity to match these ambitions with actions by spurring global efforts so that the Sustainable Development Goals can be achieved by 2030 after all," says Mathias Mogge.
Note to editors:
The 17 Sustainable Development Goals (SDGs) are part of Agenda 2030, a global action plan for the sustainable transformation of society, the economy, and the environment. The international community, through the United Nations, adopted this plan in 2015. With a deadline of 2030, its goals include ending hunger (SDG 2), ending food insecurity, improving nutrition, and promoting sustainable agriculture. The 17 Sustainable Development Goals are subdivided into 169 targets and 231 indicators.
SDG progress report by the UN: Global Sustainable Development Report 2023
Heads of state and government will take stock at the 2023 SDG Summit, held on 18 and 19 September in New York as part of the High-level Week of the UN General Assembly.
Mathias Mogge, the secretary general of Welthungerhilfe, is available for interview.
Welthungerhilfe is one of the largest private aid organisations in Germany and has no political or religious affiliations. With courage and determination, Welthungerhilfe has been working towards a world without hunger since its inception on 14 December 1962, during which time it has provided funding of EUR 4.75 billion for more than 11,498 overseas projects in around 72 countries. Welthungerhilfe operates according to the foundational principle of help for self-help, which it implements with measures ranging from rapid disaster relief to rehabilitation to long-term development co-operation projects with national and international partner organisations.