Nepal After the Earthquake: Emergency Aid and Reconstruction
The April 2015 earthquake destroyed houses, infrastructure, schools and natural resources. One year later, there is still a lot to do.
At a strength of 7.9 and 7.4, the earthquakes of 25th April and 12th May 2015 were the deadliest disaster in the history of Nepal. According to the government, more than 8,800 people died as a result of the quakes and around 22,300 were injured. In Gorkha and Sindhupalchok, the epicentres of the earthquakes, almost 90 per cent of the infrastructure and homes were destroyed.
Altogether, more than 600,000 houses were destroyed in the earthquakes, a further 285,000 were damaged. Ancient temples collapsed and numerous roads are still partially impassable today. Over 500 healthcare facilities and more than 8,300 schools became unusable. The total damage in and around Nepal is estimated by a UN report at more than three billion US dollars.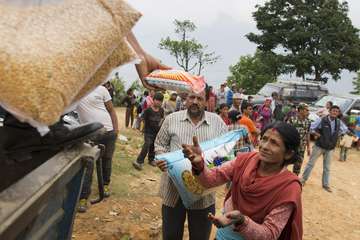 We've supported people in remote areas by providing them with much needed items such as tents, tarpaulins, mattresses, blankets, drinking water and food. © Daniel Pilar
Our Emergency Response Team set off immediately to help those affected in Nepal
Survivors had been left with nothing. Everything was buried under the rubble. In a very short amount of time we provided support with tents, tarpaulins, mattresses, blankets, drinking water and food. Communication and transport were very difficult. Despite this, we also took aid parcels into remote, rural areas and thereby helped people who were initially cut off from any support. At the same time, together with the population and our partners, we very quickly began to plan the reconstruction.
The priority was the restoration of the destroyed infrastructure, such as the repair of access roads, water pipelines, and the construction of houses and schools. Heavy monsoon rains and landslides, numerous aftershocks and a politically tense situation made things more difficult and delayed the work over and again.
Parallel to the emergency aid, reconstruction was also planned
During the course of the reconstruction new income opportunities arose: Through our Cash for Work programmes around 450 people found work again and were better able to provide for themselves and and their familes. Due to bottlenecks on the national market, 1700 households received cash, in order to be able to repay loans. They had taken out this credit, for example, for the construction of temporary shelters and for the purchase of food. Through the distribution of seeds and tools we helped smallholders get back on their feet again. Within one year the aid measures of Welthungerhilfe reached more than 142,000 people – thanks particularly to your donations.
Here is still much to do: Reconstruction and disaster risk reduction
However, there is still much to be done: Political measures remain unclear, in many places the reconstruction has not yet begun. The construction of a school in the Dhading district is still in full swing. Our partner "Emergency Architects", with whom we have already cooperated very successfully in the Philippines, planned the learning-friendly but, above all, earthquake-proof buildings.
In the future, the focus of our work in Nepal will be on food and nutrition security, the strengthening of the right to food and disaster risk reduction: We are still standing with the Nepalese, we want to strengthen people and communities in the long term. Both poverty and hunger still exist, and the danger of further earthquakes, landslides and floods remains.