Welthungerhilfe starts emergency response following cyclone Idai
Welthungerhilfe starts its emergency response in south-eastern Africa, following the devastation caused by Cyclone Idai. Millions of people in Mozambique, Malawi and Zimbabwe have been affected, further floods are expected to make the situation even more desperate.
Almost 3 million people are affected by cyclone Idai and its associated flooding. More than 1,000 people have died. Crops are ruined, millions of people's livelihoods are at risk.
The tropical storm made landfall during the night of 14 to 15 March 2019 near Beira City before it swept through Mozambique, Malawi and Zimbabwe, destroying almost everything in its path. Welthungerhilfe has started its emergency response in the region.
Situation and emergency response in Malawi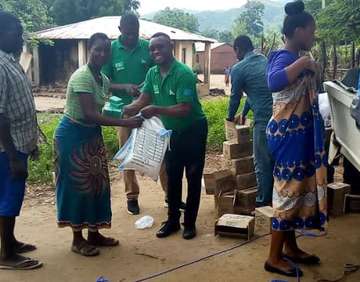 In Malawi, Welthungerhilfe is distributing urgently required basics such as maize flour. Cyclone Idai has destroyed the majority of crops. © Welthungerhilfe
Heavy rains in southern and central parts of Malawi had already caused flooding and rivers to overflow in early March, affecting hundreds of thousands of people. According to the Malawi government, cyclone Idai impacted more than 975,500 people, with 59 deaths and 672 injuries recorded. Almost 87,000 people have been displaced.
The Chikawa district is believed to be particularly affected. Welthungerhilfe is supporting smallholder farmers in this district, using 50.000 Euro provided by the German Embassy as well as its own emergency fund. So far, maize flour and soap has been distributed to more than 2,500 people (459 households). Material for emergency shelter, urgently needed non-food items and hygiene kits are also being distributed. Welthungerhilfe is collaborating intensively with its Alliance2015 partners in Malawi.
For medium term recovery, Welthungerhilfe plans to rehabilitate boreholes that have been destroyed or damaged and to distribute seeds or sweet potato vines for winter cropping, as most of the maize harvest has been destroyed. Additional funding is required to support smallholders' recovery by restocking of livestock, as many cows and goats died in the disaster.
How Welthungerhilfe's Emergency Team works
Situation and emergency response in Zimbabwe
Cyclone Idai caused high winds and heavy precipitation in Zimbabwe, which lead to flash flooding and massive destruction. The hardest-hit district of Chimanimani is inaccessible: 95 per cent of the roads have been damaged by heavy rains and at least eight bridges have been destroyed.
According to Unicef, 344 deaths and 180 injuries have been reported, 257 people are reportedly missing. Around 270,000 people in Zimbabwe have been affected by the cyclone and its consequences.
Welthungerhilfe and other organisations continue to assess the situation. Access is very problematic and there is a high risk of landslides.
Together with Unicef, Welthungerhilfe supports people by distributing hygiene kits, providing drinking water treatment and the reconstruction of the supply system. The organisations currently have 250,000 US-Dollar plus 50,000 Euro available for these measures. Additional funds are urgently required, despite the fact there is a great willingness among local people to help. In the last few days, many people who barely make ends meet have donated blankets, clothing, food or tents. Nevertheless, international aid is needed and Welthungerhilfe is currently seeking to receive further financial support.
Situation and emergency response in Mozambique
At least 603 people are confirmed dead following Cyclone Idai's landfall in Mozambique, more than 1,600 were injured. A large number of classrooms and health facilities have been severely damaged. Around 1.85 million people are affected by the cyclone and its consequences, around 239,000 houses have been destroyed or damaged. Welthungerhilfe distributes food, such as rice, oil and beans, urgently needed items for daily use, hygiene packages and material for emergency shelters. Since most of the current crop has been destroyed by water, Welthungerhilfe and its Alliance2015 partners are also distributing much-needed seeds to grow corn and beans. Sowing must be done promptly as the planting season ends soon. This is the only way to ensure that the people in the disaster areas can be self-sufficient again within the next few months. To find out how Welthungerhilfe is also countering the threat of disaster after the disaster - the spread of hunger, cholera and malaria - click here. Currently, 6,032 people are suffering from cholera.
Thousands of people in Zambezia and Tete need assistance following floods that started in early March. Welthungerhilfe is in regular exchange with other organisations with regards to emergency response activities in Mozambique and is collaborating intensively with its Alliance2015 partners.