Turning Old into New: Waste Management in Madagascar
Welthungerhilfe's (WHH) waste management and recycling project in Tuléar in southwestern Madagascar facilitates waste collection and processing, resulting in less pollution and secure livelihoods.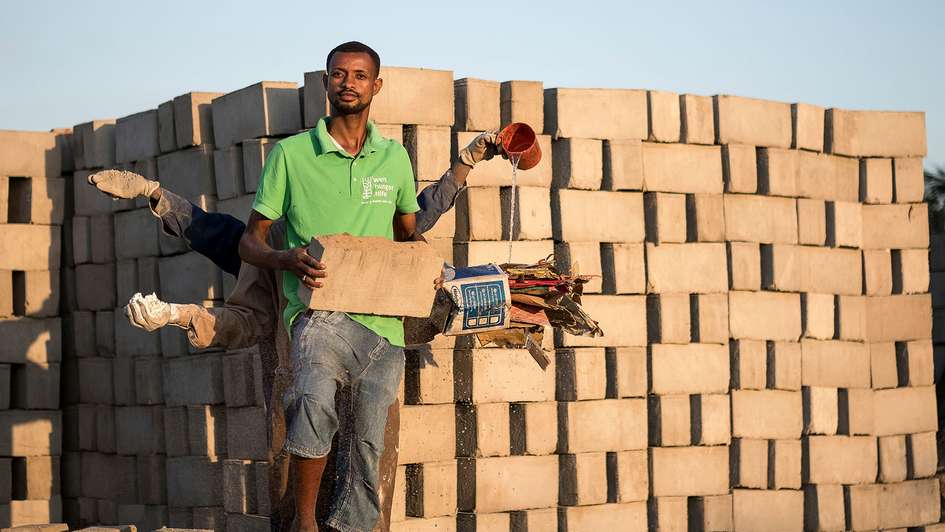 Take sand, water, lime and six parts of cardboard or paper, mix everything into a mass, form them into blocks, let them dry and get... bricks. The four hands in the photo above show the four ingredients, including a bundle of wastepaper.
For a long time, garbage dominated the cityscape of Tuléar © haddadToni / Welthungerhilfe
Drowned in garbage
In the past, Tuléar had wild garbage dumps that contaminated the groundwater, and burning garbage caused toxic smoke. A long-standing collaboration between WHH and the municipal authorities resulted in a waste disposal and recycling system and a waste storage and separation center. These activities contribute to the protection of the water and thus to family health.
Moreover, the project has another positive effect in a region where almost half of the households live below the poverty line: job creation. Above all, waste collection and recycling provide single mothers and unemployed young people with a livelihood. To this end, they receive appropriate equipment and training. Educational work is one of the cornerstones of the project. It aims to raise the population's awareness of dealing responsibly with their waste in the long term.
Recycling brings societal benefits
The project developed several initiatives to recycle waste. As a result, working groups formed to process parts of the waste as raw material. These groups produce the aforementioned bricks and much more.
Biowaste makes for excellent compost. If the composition is suitable, the working groups can also process the waste into "green coal" for heating. Biomass briquettes are another product possibility from wastepaper and cardboard. Furthermore, fertilizers made from waste can be used in new urban gardening projects to make the city a better place to live.
It gets even more creative: Under the label "Green Tocco," a group of women produce handcrafted jewelry and accessories from materials like wastepaper, coffee capsules, or car tires. By selling them, these women can earn an independent living. Also, "TuléArt," an entire museum dedicated solely to artwork made from recycled waste, has been up and running in Tuléar since August 2019 – not only using fun to raise awareness of responsible waste management but also attracting tourists who boost the economy.
Where there were once piles of trash, there is now space for new restaurants, stores and recreational facilities. Recycling brings many opportunities for the people of Tuléar.
Clean water, hygiene know-how and sanitation – without this trio, it's not possible to live a healthy life.
A model for Madagascar
For the current phase of development of the public and private waste sector in Madagascar, authorities should see the remarkable successes in Tuléar as a model for other cities and towns. Therefore, WHH continues to provide technical and material support for these activities.
Concrete measures have begun in Fort-Dauphin, the capital of the Anosy region on the southeast coast of the African island nation. However, we aim to ensure that the success story also reaches the capital Antananarivo. WHH is committed to convincing decision-makers in the national authorities of the value of the concept. After all, they are the ones who can create the environment to facilitate the implementation of the waste recycling program.
This text is a translated version of the article by Gildas Ramanirison, which first appeared in WHH magazine (page in German), issue: 04/2022. Gildas Ramanirison works in the WHH team in Madagascar.
How WHH helps in Madagascar
We provide the municipality of Tuléar with material and technical resources for waste recycling.
We accompany and advise the municipality of Fort Dauphin in the implementation of its waste recycling program.
We organize educational campaigns for children and teachers, and public events to educate children and raise awareness about how to deal with waste at the local and national level – for example, through recycling activities, innovative games, or theater and radio programs.
We support measures to reduce greenhouse gas emissions.
We work with the relevant ministries to enable them to better manage waste and implement educational programs at the national level.