Miss Hygiene Spreads her Knowledge
The proud smile gives it away: Pauline likes being "Miss Hygiene". WASH topics are close to her heart. As part of the Ebola aid programme Welthungerhilfe implemented health clubs in Liberian schools.
"One day, Welthungerhilfe employees visited our school. They told us about a health club that they had established in our school," begins Pauline. She knew immediately that this was for her. "In the past three years, I have learned a lot about health, hygiene and nutrition," she continues.
Sharing Knowledge: from the School to the Whole City
The school health club is one of many measures implemented by Welthungerhilfe in conjunction with various partners as part of the Ebola aid programme, financed by the German development bank (KfW), in the counties of Grand Gedeh, River Gee and Sinoe. In the schools of rural Liberia, Welthungerhilfe is focusing on WASH (water, sanitation and hygiene), and not without reason. According to UNICEF, 43% of schools in Liberia lack access to functioning latrines and 82% have no handwashing facilities.
In the school health clubs, students learned important information about handling food, the significance of clean drinking water and other topics. "We then passed our knowledge on to our schoolmates. We also told other people about it, for example the snack vendors at our school and our relatives," explains Pauline.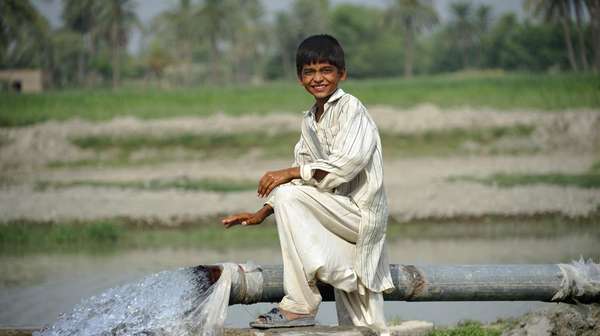 Background
Welthungerhilfe's work on water, sanitation and hygiene (WASH).
Fighting diseases and hunger with WASH
The WASH programme has a positive impact on people's nutrition security – and that is why it is so important for Welthungerhilfe's work. Healthy people are better able to absorb the nutrients in food – whereas malnourished people are even more susceptible to diseases. The recent Ebola outbreak is evidence for the need to strengthen WASH preventive measures at all levels. Welthungerhilfe targets schools communities, creating awareness on the preventive measures the public must take to stay safe. It is taught, for example, how important it is to wash hands with soap, drink water only from a safe well or not to share your water bottle with someone.
Pauline wants to educate about menstruation
The local radio reported about the event to generate public interest and to increase awareness for the hygiene campaign. The first winners received a one-year scholarship at a school of their choice, including school uniform, whilst all other contestants received personal hygiene kits.
Miss Hygiene takes her title very seriously: "I'm especially interested in getting groups of girls together to talk about menstruation. I feel well respected and people listen to me. What I like the most about being Miss Hygiene is that it has taught me a lot about my own health and cleanliness." Pauline has finished school and is ready for her next adventure: She has decided to enroll in the nursing school and will be moving to Monrovia for the next academic year. "I like helping people," she says. "Later I will return to Zleh, because I want to be in my hometown and support my people."