Haiti: Agriculture Rewards
The north of Haiti is getting prepared for crises with new cultivation techniques.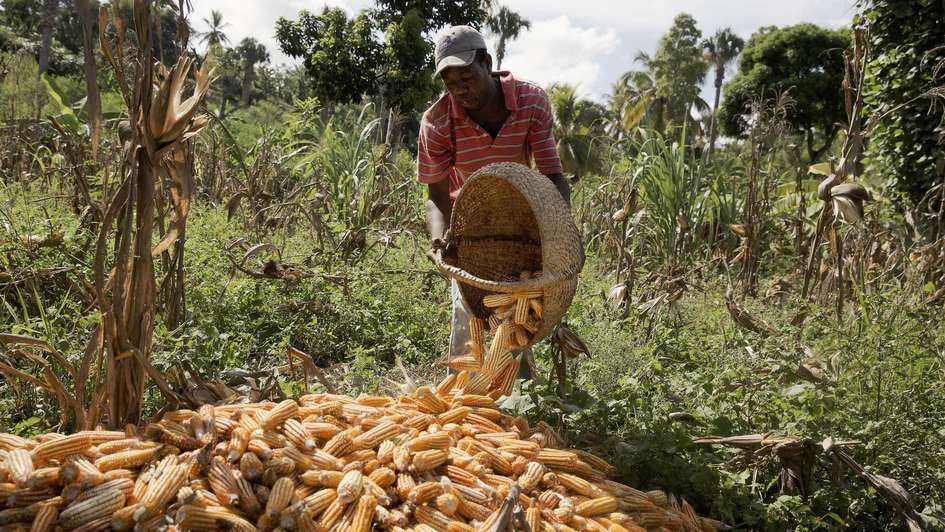 Haiti's northern region is extremely poor, and the area is regularly visited by natural disasters. Welthungerhilfe helps the inhabitants of the small city of Jean Rabel to prepare for future crises.
Actually, Leonie Fleurimond had already given up on life in her home city of Jean Rabel. "There was no future there," she says. "There was high unemployment and only minimal prospects for better economic development." Still, she returned three years ago, and today she is standing in the middle of her own banana plants. "It pays again to work in agriculture," she says.
The soil used to be too dry
A short distance away, in the centre of Jean Rabel, Dirk Guenther, Regional Director of Welthungerhilfe, is walking across the town plaza. Welthungerhilfe has been active in this city of 20,000 inhabitants for more than ten years. Dirk Guenther points to a mountain of tomatoes. "Those would not have been here before. The soil was too dry. Farmers were not able to sell their goods, since they harvested barely enough to feed themselves and their families." Today, there are rows upon rows of market stands.
Rainwater is collected in channels
But the mountains surrounding Jean Rabel are bare. As in many other places in the country. In their search for firewood, Haitians cut down almost all of the forests during the preceding decades. Rain does not come often to Haiti, but when it does, large amounts of rain hit the dry soil over a very short time period. Rainwater runs off rather than seeping into the soil to any great depth.
To ensure that they still get enough water, many farmers have moved their fields into "ravines" - small valleys between the hills, which collect water. This is where they plant bananas, whose leaves in turn offer protection for smaller utility plants. They grow everything, such as tomatoes, maize and eggplant. This mixture ensures a varied diet. Some fields are also irrigated with artificial channels - Welthungerhilfe built these together with the farmers over the past years.
Independent from outside help
Stfilet Britickomceye opens a gate on the concrete channel and lets water flow onto his field. "We were dependent on the rain before the water channel was built," he says. "Now I can grow things all year."
"When the earthquake damaged the pipe, we left the repairs up to the residents," says Dirk Guenther. "Because people should be able to help themselves." During a long dry spell a few years ago, an aid agency wanted to help out with food that was equal to the farmers' entire harvest. But only one third of all food was actually destroyed in the North. "If all food is replaced, it reduces the value of non-damaged goods", explains Guenther. "And that makes the population dependent on us. But we want to achieve just the opposite." At the end, Welthungerhilfe successfully enforced its demand of adjusting the food aid.