Empowering Women
Welthungerhilfe improves the situation of women and children in Sierra Leone with LANN+. The new training program combines all relevant aspects of healthy nutrition.
Sierra Leone is one of the worst performers in the current Global Hunger Index (GHI), and its food and nutrition situation urgently requires improvement. The comprehensive training programme LANN+ (Linking Agriculture and Natural Resource Management towards Nutrition Security) is achieving significant results and making strides in dealing with discrimination against women and children.
Despite government programmes, people in Sierra Leone are suffering from hunger and malnutrition. Even before the destructive Ebola epidemic from 2014 to 2016, the food and nutrition situation in the West African country was worrisome. Now, the 2017 Global Hunger Index once again categorises the situation as "alarming." With 38.5 points, Sierra Leone has the third-highest score globally, after the Central African Republic and Chad. Almost every tenth child under five years of age (9.4%) suffers from acute undernutrition, is distinctly underweight and is emaciated. 37.9% of all children under five years of age are too small for their age; this stunting is a result of chronic malnutrition. 12 out of every 100 children die before their fifth birthday.
Sierra Leone is one of the worst performers in the current Global Hunger Index (GHI), and its food and nutrition situation urgently requires improvement. Women in particular are suffering from malnutrition. © Welthungerhilfe/Joerg Boethling
Many Women Suffer from Malnutrition all Their Lives
The situation is particularly dramatic in the poorly-accessible semi-forested areas of the Kenema and Tonkolili districts. Locals are cut off from government services such as modern infrastructure, education and sanitation facilities or markets. They live on what they can glean from nature: a little subsistence farming in the form of rice or manioc cultivation; some logging and small domestic animal keeping; and mushroom, tuber or fruit gathering in the forest. Women and children need to travel on foot for kilometres to get drinking water. This robs them of the time and energy for working the fields, going to school or earning an income. Latrines are rare, resulting in a correspondingly high rate of stomach and bowel diseases. This is a vicious cycle because, according to the World Health Organisation, poor hygiene conditions cause half of all cases of malnutrition.
Women are especially exposed to this life-threatening environment due to many structural inequalities. They have few rights, the vast majority are neither literate nor numerate, they are responsible for drinking water, and the men decide who eats what and how much. For breastfeeding mothers, pregnant women and children, this means that they often get the short end of the stick although they are disproportionately impacted by the effects of malnutrition and often suffer those consequences for their entire lives.
New Development Concept LANN+
Under these conditions, Welthungerhilfe began its new development concept LANN+ (Linking Agriculture and Natural Resource Management towards Nutrition Security) in 2013. It connects all sectors relevant to healthy nutrition. Trained counsellors work with 51 women's groups in order to secure nutrition in 40 communities for the long term.
Women are especially vulnerable due to structural inequalities. © Welthungerhilfe/Joerg Boethling
Approximately 1,400 women planted vegetable gardens and established seed stock, harvesting, for the first time in their lives, eggplants, cabbage or onions, all nutritious, vitamin-rich vegetables that they had not previously been familiar with. In cooking classes, they learned to prepare the new produce and enrich their staple food of rice with nuts, legumes and vegetables to create a more balanced meal for their children. Hygiene measures such as washing their hands before eating or cooking have become common practices. With savings associations, women have money of their own to expand their gardens or build latrines. Stomach and bowel diseases have decreased significantly.
Involving the Men
We have learned how to support our wives
Yemoh, husband of Sawadatu from a women's group
An important element of the training programme is involving the decision makers such as village elders and men: Without their involvement, behavioural patterns and decision-making structures cannot be changed for the long term. After approximately four years, this strategy yielded positive results: The proportion of husbands who provided money for food rose from 70% to 83%, and the number of husbands who gathered uncultivated foods and planned meals in conjunction with their wives doubled from 25% to 50%. At this point, almost all infants are breastfed immediately upon or within an hour of being born; this statistic rose from 60% to 94% in four years. Half of all fathers used to eat the best cuts of fish and meat, which proportion has fallen to 20%. Correspondingly more children are now receiving essential proteins.
The young father's friends make fun of him for his new stance, but he is convinced: "We should not treat our wives like slaves." Yemoh now takes care of the household and the children if Sawadatu is otherwise engaged. Nasoko and Mohammed, a couple from the Masiaka community in Tonkili, are happy to have discarded nutritional taboos: In parts of Sierra Leone, it is said that children who eat meat, large fish, eggs or chicken are more vulnerable to witchcraft. As a result, the children used to only eat clear soup. "My children were not healthy," reflected Nasoko, "but we never thought that they might be malnourished because we were keeping nutritious food from them." Now, the whole family shares meat and fish and, since Nasoko also cultivates vegetables, everyone has become much stronger and healthier.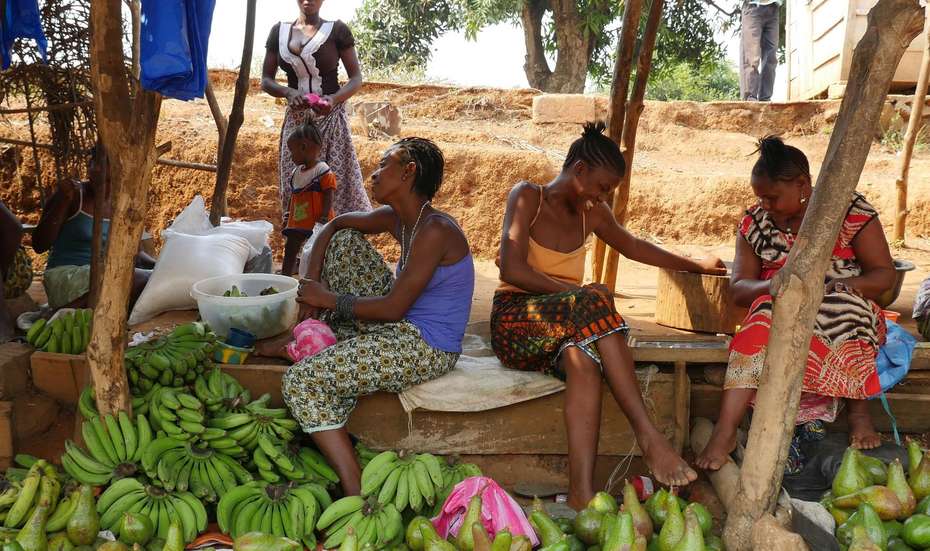 An important element of the training programme is the inclusion of decision makers such as men in order to change behavioural patterns and decision-making structures in the long term. © Roland Brockmann