Refugee Camps and Road Construction
Despite the violence in Congo, the people are working towards a positive future.
The Democratic Republic of Congo is the second-largest country in Africa. The country has enough fertile land and sufficient precipitation to supply all of Central Africa with food, and also has significant deposits of raw materials. But civil war and dictatorships have repeatedly terrorised the country and prevented its development.
Looting, violence and terror displace inhabitants from their villages. Many schools and medical stations have been destroyed. In regions that have been deserted by inhabitants fleeing the violence, roads and hence important trading routes are being covered by virgin forest.
At this time, fighting has broken out again between government troops and rebels in the Goma region in the eastern part of the country. More than 140,000 people are fleeing the violence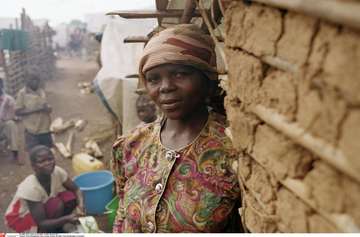 People in eastern Congo flee from fighting, robberies and plundering. © Andreas Herzau
Too few latrines in the Muganga camp
Welthungerhilfe is preparing to supply more than 7,000 refugee families in the area around Goma. The situation is catastrophic in the Muganga III refugee camp currently the largest - since there are too few latrines and space for new refugee arrivals.
Families receive packages with soap, blankets, clothing, cooking utensils and tarp, and can therefore set up makeshift homes in the refugee camp. To create more room for new refugees and set up new latrines, Welthungerhilfe uses its construction machinery that was previously used for renovating the Goma airport.
Prior to the outbreak of violence in 1999, Welthungerhilfe assisted the people of the Kongo to expand or repair roads in rural regions. The road construction efforts will be revived as soon as the situation allows
Functioning roads lead to remote areas
Only functioning roads and paths allow for the exchange of goods, services and information in remote areas.
A large number of locals receive temporary income for their participation in the road and bridge works. This way, the workers can provide their families with the most urgently needed supplies.
A decisive factor for the future in the Congo is people's ability to secure their food supplies in the long term. Therefore Welthungerhilfe promotes agriculture in fertile areas, distributes seed and agricultural implements to farm families and teaches them new and improved growing methods during training sessions.
The aid measures are financially supported by the Federal Foreign Office, the Federal Ministry for Economic Cooperation and Development and the German development bank KfW.