Girls in Iraq are Dreaming Big
Teenage girls attending a local girls school in Northern Iraq have big dreams for their future - despite experiencing the consequences of IS-terror and the ongoing war in Syria during their everyday life.
They want to be lawyers, engineers, football coaches, artists, and filmmakers – Shireen Nawzad, Lolav Hassan, Jiyan Azad, Zaynab Hussain, Payman Fareq, and Kaveen Mohammed* have big dreams for the future. The six teenagers attend a local girls school in Domiz, a town in Dohuk governorate in Northern Iraq, which was designed and built by Welthungerhilfe.
A school in the heart of Domiz
"One great advantage of the school is that it is located in the heart of the town. The students do not need to use public transportation to get to school, which has been an issue in the past as many parents do not have the money for transportation costs, especially if they have several children," says Azad Adil* who is an art teacher and assistant to the headmaster at the school. "There are many pre-fabricated schools in this area, but this one is without a doubt the best one. It has a lot of natural light and space and it provides a comfortable learning environment," he adds.
"I would like to tell the stories of people around me one day"
Zaynab Hussain
17 years old, attends school in Domiz, Iraq
Jiyan Azad agrees with her teacher. "I like that there is a lot of natural light in the school. It makes us feel comfortable," she says. Jiyan's favourite subject is English, which she practices by listening to songs and watching videos on Youtube. Her favourite artist is the Canadian singer Justin Bieber. Speaking to Jiyan and her friends it becomes apparent that their interests are not that different from those of teenagers in Europe. The six girls like to spend time with their friends, listen to music, and dream about the future.
"I want to become an artist. I like to paint at home and bring my paintings to school for my teachers to see," says Payman Fareq. One of her paintings shows a girl with long hair wearing a red skirt. "The girl is all by herself, but happy nevertheless," the 14-year old explains. Kaveen Mohammed is more interested in sports than arts. She loves football even though she never had the chance to play in a team before. "I want to work as a football coach. Personally, I support Barcelona," she says. Zaynab Hussain has a passion for movies. The 17-year-old wants to become either an actor or director. "I like realistic movies and documentaries. I would like to tell the stories of people around me one day," she explains.
Despite their hopes and dreams for the future, the five teenagers have also witnessed the challenges their country has gone through since the so called Islamic State (IS) took over large parts of Northern Iraq in 2014 and war broke out in Syria. Both caused massive displacement in the region. Kaveen lives next door to a girl who lived under IS-rule and lost both of her parents. She was forced to flee to Dohuk governorate and now lives with her uncle. In addition to people who had to flee the fighting in other areas of Iraq, Domiz hosts over 30.000 Syrian refugees who live in an official camp right outside the town and sometimes among the local host community.
"All they want is to go back to Syria"
Welthungerhilfe provides local support to displaced people in Iraq by distributing most urgently needed goods.
Jiyan's neighbours for example are Syrian and moved in after a fire destroyed large parts of the refugee camp nearby. "One of the families was forced to leave the camp and moved in next to us. We give them food and in the afternoon our families sit together and talk," says Jiyan. "It's very sad. All they want is to go back to Syria." Shireen Nawzad's family also supported their Syrian neighbours when they were in need. "When they moved in, they needed many basic things like water," she says. "The children go to the school in the refugee camp. We speak about what they are learning and help each other out with our homework," the 15-year-old adds.
Dohuk governorate has been hosting more than 350.000 people who were displaced by fighting in other parts of the country, which makes up 15 % of the 2,3 million displaced people in all of Iraq. In addition to that, more than 240.000 Syrian refugees fled across the border to Iraq since war broke out in their home country. The large displacement of people into Northern Iraq stretched resources such as water and electricity, education, social welfare and health facilities.
Building a school in Dohuk, Northern Iraq
In September 2015, the local Department of Education in Dohuk governorate approached Welthungerhilfe asking for support in building a school in the town of Domiz as the capacity of surrounding schools was so overstretched that students were taught in several shifts throughout the day. With the support of the German Ministry of Economic Cooperation and Development (BMZ), Welthungerhilfe Iraq designed and built a pre-fabricated school with twelve classrooms, a large sports field, space for teachers and multi-purpose rooms for extra-curricular activities. The goal was to build a school, which provides a safe, inclusive and welcoming creative learning space for children and promotes a sense of community within the school as well as providing space for parents and the wider community.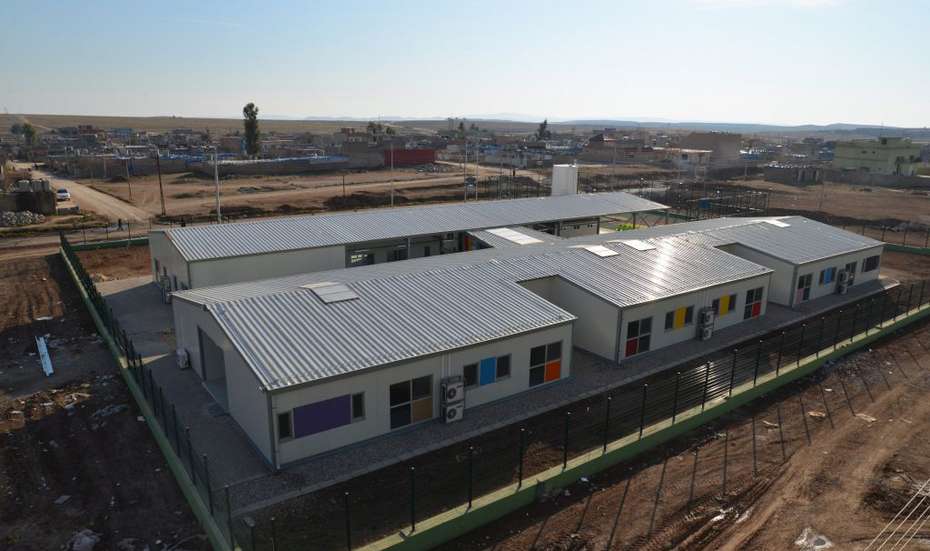 Building of a girls school in Northern Iraq build by Welthungerhilfe. © Welthungerhilfe
*All names have been changed.