Hungry, thirsty, severely weakened – this is the situation of millions of people in East African countries such as Kenya, Somalia, Ethiopia or Uganda. People are suffering from the effects of extreme drought. As a result, more than 36 million people in East Africa are currently affected by drought and threatened by hunger. They are struggling to survive.
Drought in East Africa: No Water, No Harvest, No Food
The situation is currently life-threatening, especially in northern Kenya, many parts of Somalia, southern Ethiopia and northern Uganda. The lack of rain is a silent disaster for the people in East Africa. The situation is dramatic: the soil is far too dry to grow crops or vegetables. For smallholder families, this means no harvest and not enough to eat. Many pastoralist families have already lost up to 70% of their livestock – which is often their only source of income and their livelihood. As a result, they can no longer afford to buy food at the markets. The sharp rise in global food prices has exacerbated the situation. Hunger threatens many millions of lives.
At the end of March 2023, the region experienced above-average precipitation. Unfortunately, this rain did have a positive impact on pasture and water resources. Due to the arid soil, flash floods occurred, destroying homes and killing livestock. Full recovery from the drought will require several seasons of good rainfall.
The situation is dramatic. People are in danger of starvation if help is not provided quickly.
Kelvin Shingles
Country Officer of Welthungerhilfe in Kenya
Help now: With your donation, you can support us in reaching people in need in East Africa with our emergency aid.
Drought in East Africa: No End in Sight
Due to the prolonged and recurring droughts, people, animals, and nature in East Africa can hardly recover. Even when it rains, the arid soil can barely store the water. As a result, sudden rainfall sometimes leads to flooding in the drought-affected regions. In addition, East Africa has many overlapping disasters that weaken people's resilience: In recent years, the region has repeatedly had to cope with major locust plagues. Add to this the COVID-19 pandemic and violent conflicts. All these crises lead to additional crop failure and thus to hunger. Without rapid aid, the number of people who do not have enough to eat will continue to increase.
Welthungerhilfe (WHH) is on the ground preparing emergency relief measures to protect the people in East Africa from further suffering.
How Does Drought Occur?
A drought is a prolonged dry period. The absence of rainfall leads to water shortages. Water scarcity can have a variety of dramatic health, agricultural, economic, and environmental impacts. Droughts threaten people's livelihoods and increase the risk of disease and death. These climate change-induced circumstances lead to increased migration.
The rise in temperature due to climate change is causing already dry regions to become drier and wet regions to become wetter. In East Africa, this means in many places that rising temperatures are causing water to evaporate more quickly. This increases the risk of droughts. In addition, droughts tend to last longer due to global warming.
During prolonged droughts, people suffer from thirst, poor water quality, crop failure, hunger, and poverty. Drought hits people in rural areas particularly hard. Without food aid or support from governments or aid organizations, long periods of drought can end in famine.
These Countries are Affected by the Drought in East Africa
Somalia/Somaliland:
As early as November 2021, the government of Somalia declared a state of emergency. Over 90% of the country is now affected by the drought, which threatens the food supply of around five million people. In many parts of Somalia, the situation is life-threatening. 1.8 million children under five are acutely malnourished. Nearly 100,000 people were in famine between January and March 2023. Famine is the worst level of the UN's official classification of hunger. The effects of drought, flooding from sudden heavy rains, and conflict have driven hundreds of thousands of people to flee their homes. The drought has also affected Somaliland, meaning farmers have been unable to sow crops. The livestock trade is suffering immensely. Around three million herd animals have died due to the drought, while the remaining animals are in too poor condition to sell.
Kenya:
The situation is dramatic: Drought has affected some 8.3 million people in Kenya, and for 5.4 million, the food situation is critical. The drought has significantly affected crop production. Nearly one million children under five are acutely malnourished and require treatment. Many need better drinking water access, which limits good hygiene practices. Due to the tense situation in the country, there is a risk that up to 1.6 million children will no longer be able to attend school regularly. Moreover, there was a cholera outbreak in October 2022. By the end of March, registered cases totaled 7,948.
Ethiopia:
Drought affects around 24.1 million people in Ethiopia. This situation has caused food insecurity for 11.8 million. The long-term damage of the recurring drought in Ethiopia mainly affects pastoralists and farmers: About four million livestock have already died. Heavy rains are causing flooding, leading to displacement in the country. In addition, cholera has spread again: Until February 2023, authorities had registered more than 2,000 cases. Many parts of the country have still not recovered from the 2016 drought: Extreme hunger threatened ten million people, and many lost their lives.
Uganda:
In Karamoja in northern Uganda, the situation is dramatic. It has hardly rained in recent months, resulting in poor harvests and hunger. There are reports of 900 hunger-related deaths, but the actual number of casualties is probably much higher. People have used up their food supplies as the dramatic situation has stretched on for many months. Therefore, they depend on buying additional food. However, the prices on the markets have doubled or even tripled. Sometimes the villagers eat nothing for five days and drink only water, says a village elder in Karamoja. In response, WHH has distributed food packages for 900 households in the region. Pasture, water and food resources will continue to decline, meaning people urgently need support to survive this extremely threatening period.
In eastern Uganda, heavy rains caused flooding, flash floods, and landslides in early August 2022, resulting in deaths and severe damage. There is a high risk that the food insecurity situation in the affected regions will worsen after the long drought of recent months, which could increase malnutrition and levels of cholera and malaria.
How WHH is Helping on the Ground
We prepare water points and water collection systems, but many other repairs are still urgently needed, requiring more funds.
We support operations to ensure people's nutrition, for example by distributing food and water.
Families who can no longer feed themselves receive cash or food.
With our partners, we distribute hygiene items and other items of daily necessity.
We are helping people to combat livestock diseases. The grazing livestock affected by the drought urgently need veterinary care.
Together with our partners, we continuously analyze the development of food production, monitor the market situation and react accordingly.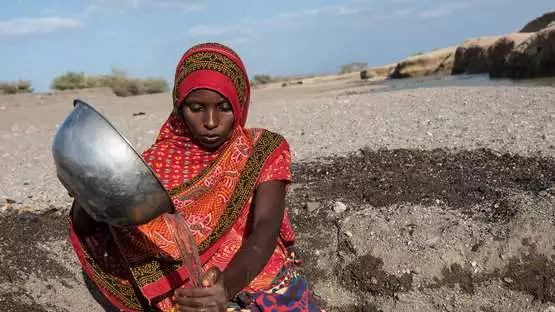 60€
could provide a family in Somaliland, for example, access to clean water for three months.
120€
could provide a family in Kenya with the most needed basic foodstuffs for one month.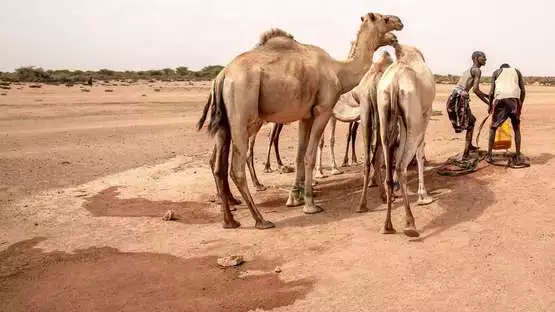 298€
could provide pastoralists in Ethiopia with feed for 10 animals for a month.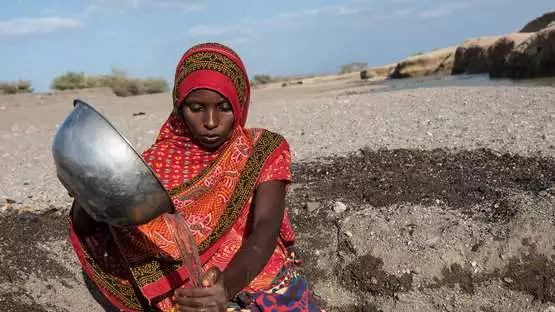 60€
could provide a family in Somaliland, for example, access to clean water for three months.
120€
could provide a family in Kenya with the most needed basic foodstuffs for one month.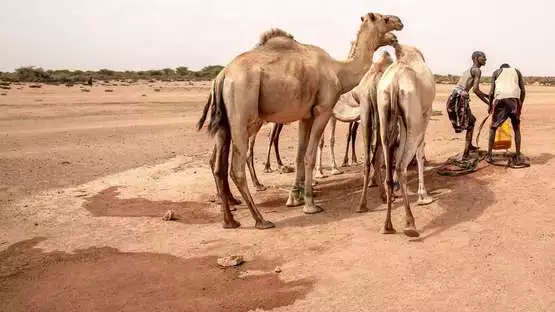 298€
could provide pastoralists in Ethiopia with feed for 10 animals for a month.
Frequently asked questions about the drought in East Africa
What causes drought in Africa?
When urgently needed rainy seasons fail to materialize or turn out to be far too short, droughts occur. The lack of water can lead to soil erosion and even desertification. A major reason for persistent soil drought is human-caused climate change. Here you can find more information about soil erosion.
Why is the Horn of Africa repeatedly affected by famine crises?
The region repeatedly experiences extreme weather such as droughts and floods. The soil is far too dry to grow crops or vegetables. For smallholder families, this means no harvest and not enough to eat. Without fodder and water, the animals of the pastoralist families die. In addition, the prices for basic foodstuffs are rising enormously. Many people can no longer afford to buy food at the markets and have to go hungry. After locust plagues and in the wake of the COVID-19 pandemic, people no longer have any reserves to counter the drought. Poverty, wars and armed conflicts are also drivers of hunger. Decades of exploitation by industrialized nations are making it difficult for many African countries to extricate themselves from the poverty trap.
How can the incidence of drought in Africa be reduced?
Many extreme weather events such as droughts are due to climate change, or are becoming more frequent and severe as a result of climate change. Mitigating the climate crisis is therefore an important step in combating hunger. This requires political solutions. But even on a small scale, everyone can make a contribution and help slow down climate change by living a sustainable lifestyle. Prevention is one of the most important measures to mitigate disasters such as crop failures. Welthungerhilfe uses various tools and measures to provide humanitarian aid before disasters occur. Early warning systems with prediction-based risk management enable affected people to act early in the event of a foreseeable drought and initiate food security measures. Such measures are vital for the survival of the worst-affected populations.
What are the consequences of drought?
Persistent droughts deprive millions of people of their livelihoods. Harvests fail, and supplies are quickly used up in many places. Crop losses plunge people into double misery. On the one hand, families can no longer live off their produce; on the other, food prices skyrocket due to the shortage. People living in poverty cannot pay these prices and have to suffer from hunger. Water shortages also exacerbate the potential for unrest and fighting over this scarce resource, especially in politically unstable countries. Conflicts and precarious living situations lead to people fleeing to other regions or countries.