Create job prospects for young people
Job opportunities and a better life for trainees, trainers and their families.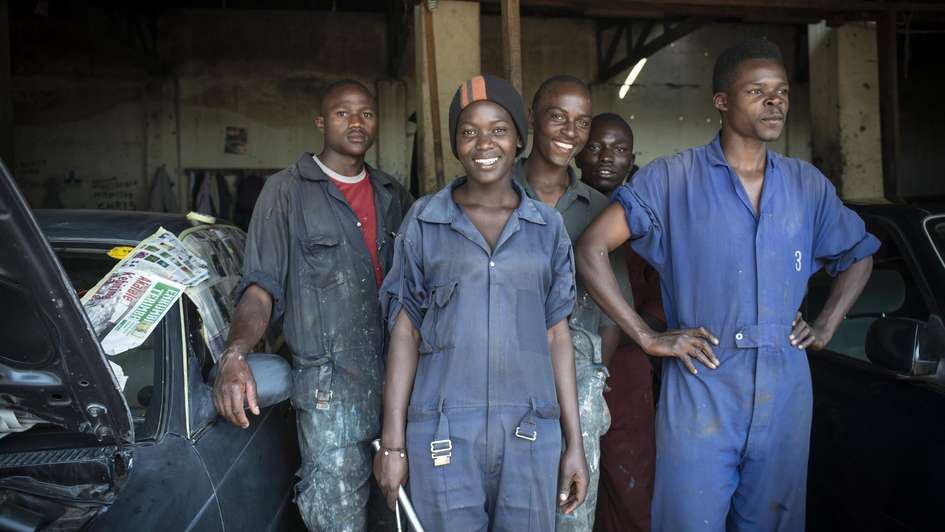 Lillian's teenage years were not easy and neither was her start into the world of work. Her parents died of AIDS when she was eleven years old. It took a lot of strength but she continued going to school and later graduated. Afterwards, she moved from her village in western Kenya to stay with her aunt in Nairobi to find work - but without success. When she became pregnant and her partner left, she didn't know what to do - until she heard about a training programme for disadvantaged young people.
Training as a Key for Development
Lillian took part in the "Skill Up!" training programme, which is offered by Welthungerhilfe and local partners in several developing countries. Today she is an electrician, standing on her own two feet and looking confidently to the future.
According to the International Labour Organization, across the world 71 million young people between 15 and 24 years old are unemployed. In Africa alone, at least 150 million young women and men will flood into the labour market by the year 2030. The training of young people and the development of job markets in poor regions are an urgent challenge as a key to development, economic growth and the path away from hunger and poverty. That is the starting point for the trans-national programme "Skill Up!", which is carried out by Welthungerhilfe and financed with five million euros by Bauer Charity gGmbH.
In the south-west of Uganda too, young people like Moses Kugonza are acquiring new knowledge or, like Christine Namara, are passing it on. The two of them talk in the following video about their experiences with "Skill Up!":
Good for the Economy – and Self-Esteem
Following the principle of help for self-help, "Skill Up!" offers young people the chance to generate an income for themselves. It focuses on training modules, which are adapted to local conditions, as well as on the development of training facilities, so that the programmes can continue independently on a long-term basis.
"Skill up!" projects are running in these countries
Kenya: 1,300 young people receive training through workshops and in private enterprises. Training courses are offered in the fields of motor mechanics, electrical engineering, catering and agriculture.
Sierra Leone: 1,900 trainees receive training courses in technical and entrepreneurial skills.
Tajikistan: The aim is the teaching of commercial and entrepreneurial skills. Approximately 1,500 young adults receive a three-month-long training here.
Uganda: The trainings takes place in trade enterprises, as well as through lessons in self-management and commercial skills on campus.
India: Welthungerhilfe provides advice and support within the context of training courses at 'Green Colleges' with the focus on sustainable agriculture. A total of 1,100 people are being trained in India.
Alongside technical knowledge and practical skills, the young participants also gain in self-confidence and mental strength. "For all young mothers out there who don't know how they can go on, who have lost all hope, my story should give them courage and maybe open their eyes," says Lillian today.
Lillian, Kenya
Lillian Ondiso Haggai, orphan and single mother, completed the electrician course at the Watoto wa Lwanga training facility in Kenya. With the support of Welthungerhilfe, training courses oriented to the needs of the Kenyan labour market are offered here, which pick up disadvantaged and at-risk young people. They get the chance to stand on their own feet. "I was the only girl in the class, but that didn't stop me from being the best," explains Lillian proudly.
Moses, Uganda
The Amaani Rwenzori campus in south-west Uganda is a hotbed for the future: 67 young men and women have already completed a qualification as part of "Skill up!", for example, as a carpenter, mechanic or hairdresser. One of them is Moses Kugonza. At the age of 21 he has his own motorcycle garage and his first employee. The young Ugandan knows: "The biggest challenge for rural communities in my country is the lack of training and employment opportunities."
Christine, Uganda
Christine Namara is a trainer with the "Skill up!" programme. The trained hairdresser is an employee of Welthungerhilfe and manager of the beauty salon in Amaani Rwenzori. She is not only sharing her knowledge and experiences within Uganda; together with Moses she is attending the BMZ conference in Berlin on rural development and youth unemployment. There, the two young Ugandans want to speak with the German government about their experiences. Their message: The greatest prospects for young people in rural areas lie in the promotion of their own ideas and projects.
Raheem and Samuka, Sierra Leone
Almost 500 trainees and young entrepreneurs in Sierra Leone are already benefiting from "Skill up!". Raheem Kagbendi and Samuka Jaward are two of them. The young men had the idea to manufacture high fuel value charcoal briquettes from sawdust and carpentry waste. The initiative is incorporated into the major project Waste Management Bo City, which aims to solve the rubbish problem in the city of 200,000 people. Numerous smart business ideas around recycling have already emerged.