Yemen
Fighting Hunger with Cash
Since 2015, Yemen has been wracked by civil war. More than three million people have already fled the armed conflicts. About a million people have so far returned to find their home region destroyed.
Drinking water is scarce, food is running out, and prices for the little food that is left are rising daily. 24 million people are in need of food assistance to survive. That is the 80 per cent of the population. The United Nations have warned of a famine. Together with its Alliance2015 partner ACTED, Welthungerhilfe supports people in six districts of the Raymah Governorate: Bilad At Ta'am, Al Jabin, As Salafiyah, Kusmah, Al Jafariyah and Mazhar.
Impact of the Corona Crisis on Yemen
The devastation caused by civil war in Yemen has been compounded by the COVID-19 crisis. The number of cases is rising rapidly, despite the likelihood they are being under reported by local authorities. This situation requires the implementation of preparedness and response activities now, especially related to health, water, sanitation and hygiene (WASH). Support for recovery following the crisis to rebuild livelihoods is also envisioned.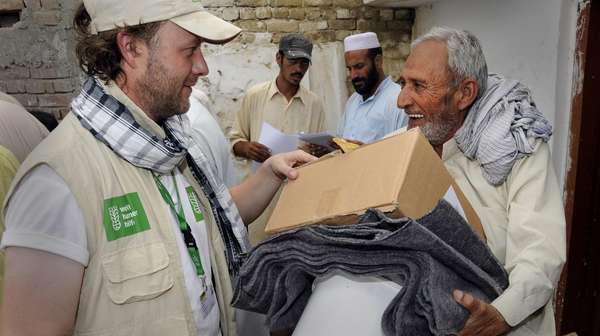 More Information
Emergency Aid at Welthungerhilfe
340,000 Euro Cash Support
Since 2017, Welthungerhilfe together with ACTED has so far supported around 153 households per district with cash transfers, which is 918 families or around 6,300 people. 340,000 Euro were spent on this emergency programme in order to enable people to quickly and easily buy food and goods that they needed most. In the district of Al Jawf, Welthungerhilfe has supported 5,180 people with cash payments and provided 110,000 Euro.
Together with ACTED, Welthungerhilfe is currently supporting 480 households, or around 3,500 people, in the Governorate of Sa'ada with a total of 308,000 Euros. People receive food vouchers to care for their basic nutritional needs. Both internally displaced persons and host families receive the support.
ACTED has already had good experiences with cash transfer programmes in Yemen. Cash aid, as distributed here in Yemen, often provides more effective and longer-lasting help than does distributing goods: It can be offered quickly and flexibly, and beneficiaries can meet their individual basic needs. This guarantees flexibility and the freedom to make decisions even in emergency situations. Standardised aid packets, on the other hand, do not always cover the needs of all beneficiaries.
How Welthungerhilfe Supports People in Yemen
340,000 Euro cash support has been provided
6,300 persons in each of the districts of Bilad At Ta'am, Al Jabin, As Salafiyah, Kusmah, Al Jafariyah and Mazhar have received cash support;
Around 3,500 people receive food vouchers
Beneficiaries are being carefully selected
The programme is being monitored continually in order to prevent fraud
A complaint and consultation centre is provided to help beneficiaries