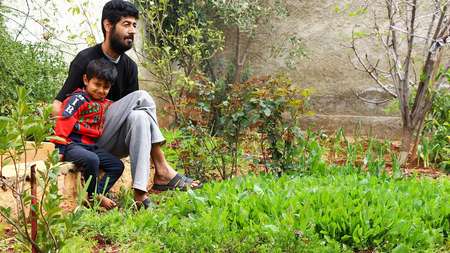 Syria/Turkey
Food vouchers reduce hardship
"I was seriously injured during an air attack - both my arms had to be amputated. Since then I have hardly been able to provide for my family", explains Obeida Yousef. He is sitting with his young son in a vegetable garden in Idlib, where his family now lives. Obeida Yousef used to work as a farmer in the rural area of Aleppo, until the war in Syria turned the 40-year-old's life upside down. The air attack destroyed his house, and the family had to move to another part of the country.
Assistance for Idlib and Aleppo
Welthungerhilfe and its local partner organisation IhsanRD provide support for the difficult task of starting again. "We get vouchers. That really helps to feed my family. However, I am scared about the future. I really hope that the war will end soon."
Millions of Syrians have had to leave their homeland, their houses and their jobs behind; many of them have also lost loved ones. The only option is to flee into the unknown. In the Syrian regions of Idlib and Aleppo, Welthungerhilfe and its partner organisations, People in Need and IhsanRD, identify the refugees that are particularly dependent on assistance. They receive vouchers for food, seeds and garden tools or aid parcels, including items like rice, lentils, oil and chick peas, or hygiene products.
Refugees tell their stories
Amar Homede, 35, from the south of Idlib: "I still go to look for work every day, even if it is difficult because of the constant bombings. I would like to support my family and ensure that they have enough to eat, and my children can go to school. One of my sons is disabled and needs medical care. I have only been able to pay for the treatment he needs since we have been receiving support from Welthungerhilfe and Ihsan. Now I grow vegetables in the garden and I even have an irrigation system."
Fakhri Masri, 47, from Damascus: "My house was hit in an air strike. Since then I have been in a wheelchair. My family and I fled to the south of Idlib, but I can no longer work. I am ashamed, because I can no longer support my family. I also need a new battery for my wheelchair every three months, and that is expensive. I am glad that we get food vouchers from Welthungerhilfe – it means I know that my family will get enough to eat."
Zahida Khleef, from the west of the Aleppo Governorate: "I feel lonely, and I am always exhausted. The war has had a big effect on my life. My husband died during an air strike and my eldest son died soon afterwards. I can hardly provide for my other children. However, Welthungerhilfe and Ihsan have helped me to buy tools and seeds – now I grow my own vegetables. I hope that the war is over soon, so I can go back to my home and live there in peace."
Nouri Kamel, 63, from the north of Hama: "We had to leave our house and our fields behind. Now we live with our eight children in a single room. Every day is a challenge. It is worse when someone gets ill. We can't afford to see a doctor or get medicine. Things have been going better for us since we started getting food vouchers. It makes me so happy to see that my children have enough to eat. However, I am scared about the future. I don't want my children to have to live as refugees. I want their lives to be full of peace and joy."
Welthungerhilfe has been active in Syria since 2012, helping people survive and supporting them in their difficult situations.
How Welthungerhilfe is helping in Idlib and Aleppo
More than 38,000 people are receiving food vouchers, which they can use at the local markets.
Using vouchers for seeds, fertiliser and tools, people can grow crops like peas, peppers, tomatoes and aubergines.
Welthungerhilfe works with its partners, PIN, IhsanRD and SARD, to distribute food parcels including items such as rice, lentils, oil, chick peas, salt, sugar and tomato purée.
Aid parcels with essential hygiene products are also distributed.
Some project participants receive micro-gardening training. They can then pass on their newly acquired knowledge to other refugees.
Bakeries have been rebuilt and supplied with flour, making it possible to provide 97,500 internally displaced people with bread.
The war has left people like Obeida Yousef, Zahida Khleef and their children in unimaginable situations. Welthungerhilfe and its partners help them to feed their families and regain hope for the future.