Niger
Water Shortages and Terror
It is their lifeline and was once one of the world's largest lakes: Lake Chad. More than 40 million people depend on it for water and food. However, this lifeline is shrinking, with the lake having already lost 90% of its water. At least half of this loss can be attributed to people: climate change, field irrigation, deforestation. As a result, the entire region is experiencing an ecological crisis. The food security of 14 million people is in danger.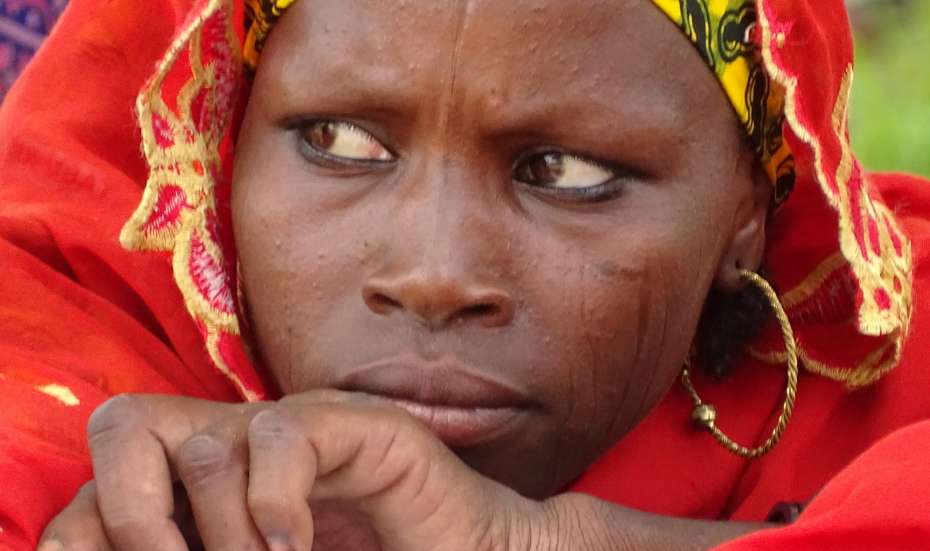 Female refugee in Niger. © Bernd Schwenk
The Terror of Boko Haram Increases Hunger and Poverty
The loss of water is not the only problem confronting the West African country of Niger and its neighbours Nigeria, Cameroon and Chad. Since 2002, fighters of Boko Haram have been terrorising the region, especially Nigeria. In 2014, the terrorists kidnapped 276 Nigerian school girls. The case attracted international attention, and, with the catchphrase #BringBackOurGirls, people around the world demanded their release. The majority of the girls are still missing today.
Hundreds of thousands have already fled from Boko Haram's atrocities to neighbouring Niger. Many find refuge with families. These are often strangers who themselves barely have enough to survive. The pressure on resources is rising. As long as the lifeline of Lake Chad continues to shrink, there will simply not be enough water for people, animals and fields. The United Nations Office for the Coordination of Humanitarian Affairs (UN OCHA) is warning of a famine.
Refugees in Niger. © Bernd Schwenk
The region of Diffa, the Welthungerhilfe project region in southern Niger, is hosting about 106,162 refugees (UNHCR, February 2017). Of this number, 75% are women and children. Many of them are traumatised. If they cannot find accommodations, they are forced to live on the streets and beg. According to UN OCHA estimates, approximately 400,000 people in Diffa alone are being threatened by hunger. Within the space of a year, the number of malnourished children has more than doubled.
How Welthungerhilfe Supports People in Niger
Welthungerhilfe is adapting its project activities in Diffa to the changing needs. In conjunction with HELP, it is supporting refugees and families hosting refugees. As part of its humanitarian assistance efforts, it is ensuring that people's basic needs are met. Other project measures, such as the construction of irrigation canals, are currently suspended due to the unstable situation.
Welthungerhilfe is distributing food to mothers with young children.

New community fields are being established, and agricultural equipment, seeds and fertiliser are being distributed.

In Cash for Work measures, people help to reclaim degraded surfaces for cultivation and earn a fair income.

Water loss is being combated with the repair of 15 water pumps and the formation of a water committee.
Welthungerhilfe is implementing projects in the region of Diffa in conjunction with HELP and with financial support from the Federal Foreign Office and the Federal Ministry of Economic Cooperation and Development (BMZ).