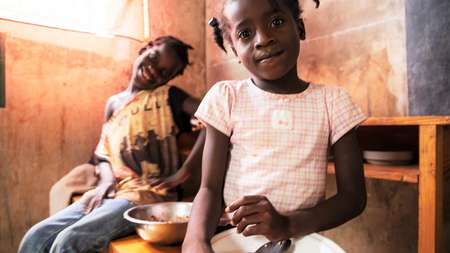 3.29 m. €
funding in 2019
65,000
people reached in 2019
Haiti is the poorest country in the western hemisphere and has not yet recovered from the effects of the severe earthquake of 2010. In 2019, almost half of the population suffered from undernutrition. The rural population in particular suffers from hunger and poverty, and crop yields are not sufficient to survive. Drinking water is scarce, and people have no reserves for emergencies. In the last decades, the frequency and severity of hurricanes, floods and landslides have increased, partially as a result of human activity: Forests, which otherwise provide a measure of protection from water and mud, were cleared for use as firewood in many places.
Welthungerhilfe's Strategy & Goals
Donate
All Countries
Rank in Global Hunger Index
GHI value 2018 for Haiti
extremely alarming

> 50
low

< 9.9
Global Hunger Index (GHI) of Welthungerhilfe and partner calculates the nutritional situation of a country once a year. The lower the GHI value, the better the rank and the better the situation.
More about Global Hunger Index
10.85 million
population (2019)
7.2%
child mortality (2019)
49.3%
of the population is undernourished.
Global Hunger Index
-3,7
Score (48.8 in 2010)