Madagascar: Stop Hunger, Protect the Environment
People in Madagascar suffer from hunger and poverty due to the consequences of climate change. Welthungerhilfe supports small farmers and sustainable agriculture.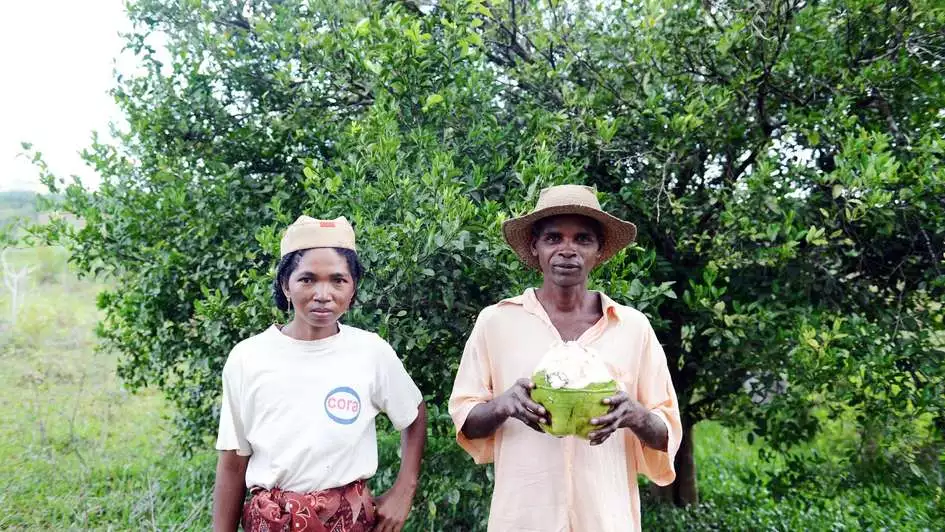 Miles of beaches, rainforests, but arid steppes and desert plains too – Madagascar's breathtaking landscapes have many faces. At the same time, the island in the Indian Ocean is home to numerous plant and animal species that are not found anywhere else on the planet. Its most famous representatives: lemurs and tomato frogs. For the predominantly agriculture-dependent population, however, the living conditions in this unique and valuable environment are far from anyone's idea of paradise.
Climate change causes hunger and poverty in Madagascar
Along with Bangladesh and India, Madagascar is one of the three countries worst affected by the effects of climate change. Hurricanes, droughts, floods, bushfires and locusts again and again destroy the meagre harvests of the island's residents. The tragic result: Despite abundant natural resources, 92 per cent of people live beneath the poverty line and every year around 55,000 children under five years of age die from undernourishment and malnutrition.
Support for Madagascan small farmers
In four districts of the Atsimo Andrefana region in south-west Madagascar, Welthungerhilfe is supporting particularly needy small farmer families with around 24,000 persons, who live in immediate proximity to three nature reserves. The objectives:
Securing the nutrition of people for the long-term,
sustainably improving their economic situation
and protecting the natural resources.
Soil erosion, natural disasters, a lack of irrigation systems, as well as inefficient cultivation methods all contribute to lower harvest yields in the project region from year to year. How they can protect the soil and increase their yields is something being learned by the small farmers during comprehensive training sessions. Initially, they learn eco-friendly agricultural methods on trial fields, such as sowing in connection with mulching. In this way, the moisture remains in the soil and fewer weeds must be removed. Then there are location-appropriate, dry climate-adapted seedlings and seeds to be used.
Cassava and sweet potatoes are also irreplaceable as staple foods, they are supplemented through protein-containing legumes like peas, beans and peanuts, as well as vitamin-rich fruit and vegetables. In order to use the land optimally and to spread the harvesting times across the whole year, Welthungerhilfe focuses more strongly on mixed grain and vegetable cultivation. With their short cultivation cycle, vegetable crops are less susceptible to pests. This means that before migratory locust swarms invade, the vegetables have long been harvested.
Madagascar's small farmers: Ecological cultivation for environmental protection
Due to existential adversity, the people have so far been unable to pay much consideration to the environment. Now they are taking the chance to preserve their living environment and to arm themselves against recurring natural events. Collaboratively, the project participants are re-foresting cleared areas: with fruit trees and timber trees, which can be used later as building material and fuel. These will be grown initially in partly community-managed nurseries.
For the protection of their cultivation areas from flooding, the smallfarmers are erecting small dams and walls of stone, they are also planting protective hedges. The hedges, a crop mixture of shrubs and trees, form 'green bands' around the fields and thus protect them against strong gusts of wind and soil erosion. At the same time, they provide firewood, animal feed or valuable oils, such as jojoba or castor plant.
In order that not only fields and harvests are better equipped against hurricanes, but people too, schools and many public buildings will gradually be renovated, in coordination with the communities, and developed as protective shelters.
How to earn money? Alternative ideas secure livelihoods
Whether it is small livestock breeding, fish farming or bee keeping, the processing and marketing of agricultural produce or local small crafts – Welthungerhilfe is supporting farming families to open up further income sources. Through a broad range of education and training, as well as assistance in the establishing of interest groups, women in particular should be encouraged to create their own professional mainstay.
Where necessary, tools, seeds and cuttings will be made available to the project participants. These are opportunities which make the people in the Atsimo Andrefana region a little more independent and resilient – and at the same time, a big step forward in the fight against hunger and the effects of extreme natural events.