India: A Smallholder's World – Saving Crops with Organic Farming
It is difficult being a small holding farmer in the world today, where everything is pitted against them. In the world's biggest agrarian economy for small holders (= India) this seems starkly real.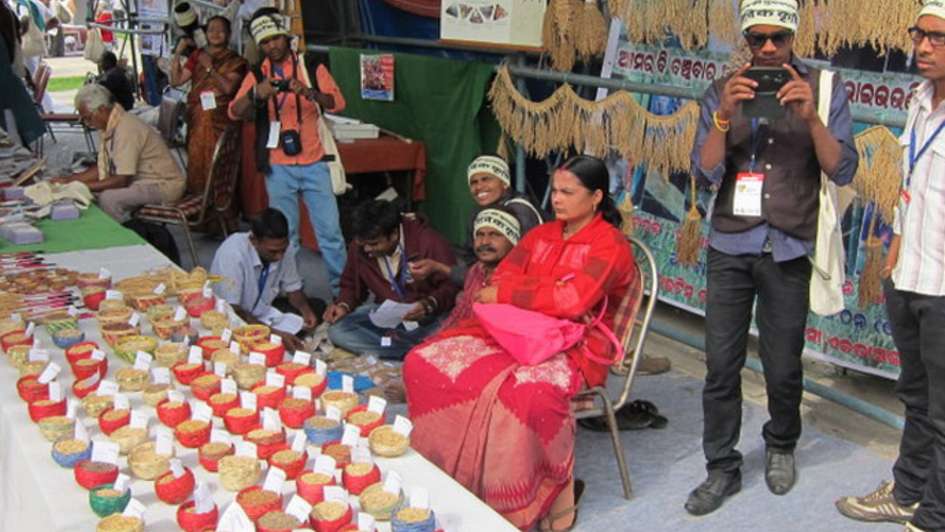 Every year one hears of small and marginal farmers committing suicide due to unmanageable debt, crop failure, some even dying due to shock. The government does what it can in terms of covering losses and reducing social pain to small farmers, but its reach seem limited. The problem does not seem to lie where most are looking, in conventional economics and agronomics, subsidized fertilizers and pesticides and global trade efficiency.
Small holders who take to organic farming are stably able to save their crops despite vagaries of the weather
It is also interesting to note that no organic farmer has ever committed suicide in India, when there is no large organized organic markets in India as is in the west. It is not to endorse the organic food space, rather to show that small holders who take to organic farming are stably able to save their crops despite vagaries of the weather.
The government of India is stepping up by beginning to invest heavily in sustainable agriculture
In India the most ambitious such exercise undertaken is called the National Mission on Sustainable Agriculture. It has a budget outlay in the 12th Five-year plan (2012-2017) as Rs. 130 billion (approx USD 21 billion) – that is about 11% of the total agricultural budget of the country.
However this organized assistance comes late by almost four decades. While large swathes of land and agriculture in India are classified as organic by default (due to low nor no use of chemicals altogether), it is small civil society and farmer lead initiatives that are keeping the organic or sustainable agriculture movement alive. One such initiative is lead by the Organic Farming Association of India (OFAI). While OFAI has formally been registered in India only in the last ten years, the founders and members of the organization has been associated with the movement since 1970s, with or despite support from successive governments. For the last decade an organic farmer's convention is held as the "Biennial Organic Farming Convention". This time the convention was held in the city of Chandigarh, which is also the capital of the top agrarian state of India, Punjab.
Punjab farmers paid a heavy price because of the use of chemicals: Cancer Train
Now Punjab is an interesting case being called the bread basket of India, with less than 2% of the total land area of India, it produces almost 20% of India's' wheat and 11% of its rice. It is the poster state for Green Revolution in India in the last six decades or so. At a time when India was reeling under food production stress, in the 1950s the farmers of Punjab proudly stood up and provided for the country. However, they have paid a heavy price, with the lives of many farmers. Punjab has the highest use of chemical fertilizers and pesticides usage in India. It also has the one of the lowest percentages of certified organic farms in India. There is high incidence of nitrites in the ground water and cancers amongst agrarians. This condition of dismay has been manifested with a "Cancer Train" which carries a high number of patients from Punjab for treatment to the neighboring state of Rajasthan everyday, most of whom are farmers.
Need to be done: knowledge sharing about sustainable alternatives in agriculture and networking amongst farming communities
In this light, to raise awareness of sustainable alternatives in agriculture, knowledge sharing and networking amongst farming communities the 5th National Organic Farming Convention was held in Punjab in March 2015. The event had a high participation of farmers, politicians, civil society and consumers and was a success in terms of outreach and connecting the policy makers of the states of Haryana and Punjab with various organic farmers across India. The event was co-organized with other organizations such as the Alliance for Sustainable and Holistic Agriculture, Kheti Viraasat Mission and National Institute for Teachers Training and Research. Sessions on Agro-Ecology, alternative marketing systems, climate change and pest management techniques were well attended by participants.
In the near future, the idea of organic agriculture as it exists in the world today seems to be undergoing a significant change
It is no longer limited to expensive food, certification and global trade, going forward it is the domain of the small holder farmers in Asia, Africa and Latin America, which is helping reshape these boundaries. It is interesting to consider that the word "organic" itself is a misnomer, since Organic Chemistry itself is a progenitor of most synthetic inputs and chemicals used in conventional farming. As in most Asian countries, in India also the word used for describing the equivalent of organic is 'Jaivik' which literally translates to 'full of life'. Now, this may be a suitable description of food, which is grown sustainably and without chemicals.
In India, the central government has introduced a promising scheme called National Mission of Sustainable Agriculture; also the Ministry of Agriculture has a department called "National Center for Organic Farming". Both these initiatives are attempting to bring India in the forefront of sustainable agriculture for national self-sufficiency and food security for small holders. Recently, the state government of Kerala has announced plans to become an organic and agro-chemical free state before 2017.
Sustainable agriculture is at its helm in India now and here to stay despite the challenges posed by genetically modified organism and harmful agro-chemicals.
It is anticipated that in the coming decade India will lead in the domain of sustainable agriculture and small holder rural economics.