Simple but innovative: Hydroponic gardens in Sudan
A simple yet innovative hydroponics project is making a big difference to the lives of internally displaced people in Sudan.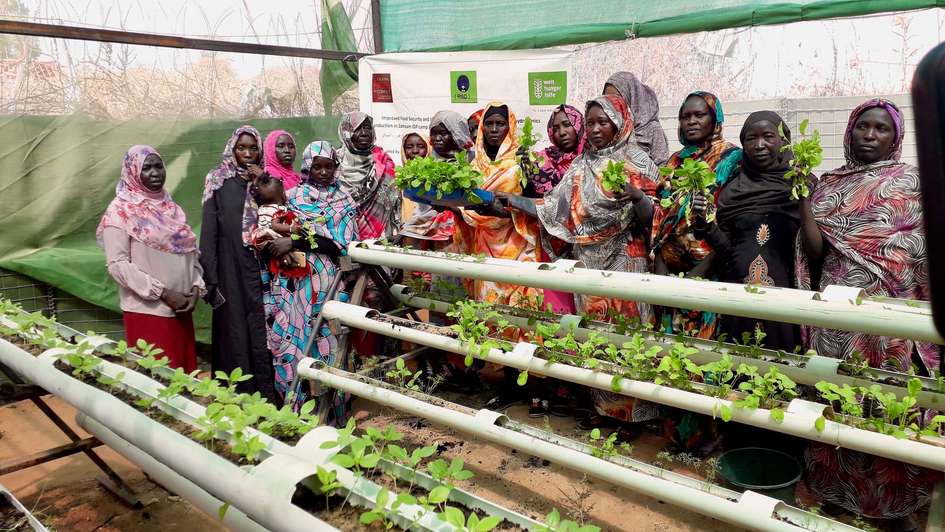 Sufficient food is hard to come by for the internally displaced people (IDP) in Camp Zamzam in North Darfur, Sudan. Limited access to land and water due to conflict in the region, coupled with scarce income opportunities have caused high levels of food insecurity and malnutrition.
These people have lived in the camp since 2014 and their situation is not improving. As humanitarian funding gradually decreases, an innovative approach is required to improve food access and nutrition, while also providing a much-needed income source.
Welthungerhilfe has joined a national partner NGO, Al Rayan for Social Development, to launch a hydroponics project to empower IDPs to grow their own food in difficult circumstances.
Farming for the conditions
This partnership is currently piloting the project in Zamzam for 150 women from particularly vulnerable households. These women are using mostly locally available materials to adapt their farming to the conditions of the Zamzam camp.
Hydroponic production is a simple yet effective cultivation technique that harnesses sunlight and doesn't require soil. It fits into the confined spaces of the camp and uses 80 to 90% less water than conventional farming methods.
The women are also utilising the innovative Set-It and Forget-It technology in these gardens. Welthungerhilfe has helped implement this intelligent drip irrigation system – a smart irrigation tubing that communicates directly with plants to regulate irrigation delivery.
Food and financial security
Welthungerhilfe understands that access to crops is not enough to achieve sustainable food security. Therefore, Welthungerhilfe plans to link the supported IDP groups with microfinancing institutions such as local banks. By then assisting these groups to setup Village Savings and Loans Associations, they will be able obtain cash through savings or loans to sustain the hydroponics project independently.
Welthungerhilfe will also link the project participants to local suppliers of agricultural inputs and the Sudanese Ministry of Agriculture for technical support.
Scaling the project
The next step is scaling the technology to other parts of Sudan as well as to other countries to support IDPs, refugees and vulnerable host communities. Improving food security in these regions has the knock-on effect of increasing societal stability.
In line with Welthungerhilfe's goal of achieving 'Zero Hunger by 2030', the expansion of the success of the hydroponic gardens in Zamzam would allow vulnerable households in other challenging surrounds to grow their own vegetables, thus increasing access to food and improving nutrition.
This project was funded by Grand Challenges Canada, USAID, DFID UK, and the Ministry of Foreign Affairs of the Netherlands.